Country Bob's Giveaway Winners
| Updated: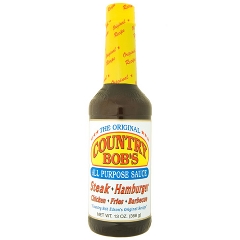 I was happy to have such a great response to the Country Bob's All Purpose Sauce giveaway! It sounds like a lot of you are already familiar with the product. You all had great recipe ideas! I randomly chose two winners this morning, and here they are:
Jason, who wants to try kabobs, baked beans or meatballs.
and Suanne who wants to try Deviled Swiss Steak. I bet you're glad you snuck that last entry in before the deadline, Suanne!
Congratulations to the winners! I hope you enjoy experimenting with the sauce. I will send both of you an email to get your shipping details, so please check the address you provided me in the form. If you don't see a message from me, please leave a comment here.
Thanks again for visiting my site and entering, everybody!
DISCLOSURE: This website is monetized with affiliate links. I earn a small percentage of the sales price when visitors make purchases through affiliate links. Thank you for your support!
Share this post