Country Bob's All Purpose Sauce Review…and Giveaway! (ENDED)
| Updated:
EDIT: Times up! What a great response – thanks for all your entries. You made me very hungry with all your recipe choices! The two randomly selected winners are announced here.
I was very excited to be given the opportunity recently to sample and review Country Bob's All Purpose sauce. I love to cook and try new ingredients!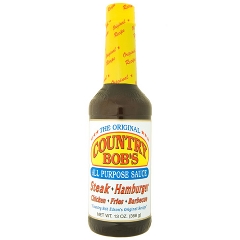 Here is a little bit about the company's background from their website:
In 1968 Country Bob perfected the sauce of his dreams. After years of giving the sauce to friends and family he began to sell it in 1977. The reaction was overwhelming just as it is today. Almost everyone who tries Country Bob's All Purpose Sauce becomes a lifelong user. And why not, it is the perfect complement to practically any meal set on your table.
Country Bob's is similar to some of the standard steak sauces I have tried over the years, but it is so much better. It has a smooth, glossy consistency, and a unique taste that I loved (in fact, I was tempted to drink it straight from the bottle). The sauce is sweet and slightly tangy, like a steak sauce, barbecue sauce and sweet-and-sour sauce all rolled into one. It comes in a squeezable plastic bottle, which is a welcome change from the glass bottles that you have to shake and slap (inevitably causing a sudden rush of much more sauce than you ever wanted).
Wanting to test out just how "all-purpose" Country Bob's sauce really was, I decided to use it in a chicken pot pie. I cubed up some uncooked chicken breast, then tossed it with enough of the All-Purpose Sauce to completely coat the chicken. I fried the chicken up before adding it to the pot pie. The sauce added a very nice extra dimension to the dish without overpowering it–the chicken had a pleasant, slightly sweet taste.
I brought another bottle on vacation so my family could test it out. We enjoyed using the sauce on our hamburgers instead of ketchup. I bet it would have made a delicious dipping sauce for fries as well. I also slipped Country Bob's into some Italian meatballs I made the other night for meatball subs. The product really is versatile, and adds a unique taste to all kinds of recipes. I'm looking forward to using Country Bob's All-Purpose Sauce in many more dishes, and on the grill as our weather finally starts to warm up.
And now for the good part…
Country Bob's has generously offered to send free bottles of All-Purpose Sauce to two of my lucky readers! To enter the giveaway, leave a comment below telling me what recipe you would like to try this sauce with. You can get lots of great recipe ideas from the Country Bob's website if you're not feeling creative. The contest will end at 7:00 p.m. PT on Friday, May 1st, after which two winners will be selected randomly. You must live in the U.S. to enter, and please make sure you use a valid e-mail address in the comment form so I can contact you if you win. Please note: If you've never commented on my site before, your first comment will be held in the moderation queue until I approve it. I check on the site several times daily, so your comment should appear soon!
Thank you to Country Bob's for this great opportunity!
DISCLOSURE (what's this?): Country Bob's sent me two bottles of All Purpose Sauce free of charge to facilitate this review. Country Bob's also provided the prizes for this giveaway. This review represents my honest opinion after using the product.
DISCLOSURE: This website is monetized with affiliate links. I earn a small percentage of the sales price when visitors make purchases through affiliate links. Thank you for your support!
Share this post