Chocolate Christmas Pudding Bon-Bon Cookies
| Updated:
The traditional Christmas Pudding is a holiday mainstay in British homes. Being a dual nationality household, we typically have a pudding (usually store bought) around Christmas. For my husband, it just isn't Christmas without a pudding.
I enjoy the tradition, but I can never quite conjure up much excitement for the steamed mix of fruits, nuts, and spirits. Dark, rich Christmas Pudding looks enticing, but it's so disappointingly not chocolate. Until now.
This year I decided to take the easy way out and make super simple (but scrumptious) bon-bons for my Christmas cookies. My boys and I enjoyed decorating the little balls in a variety of ways.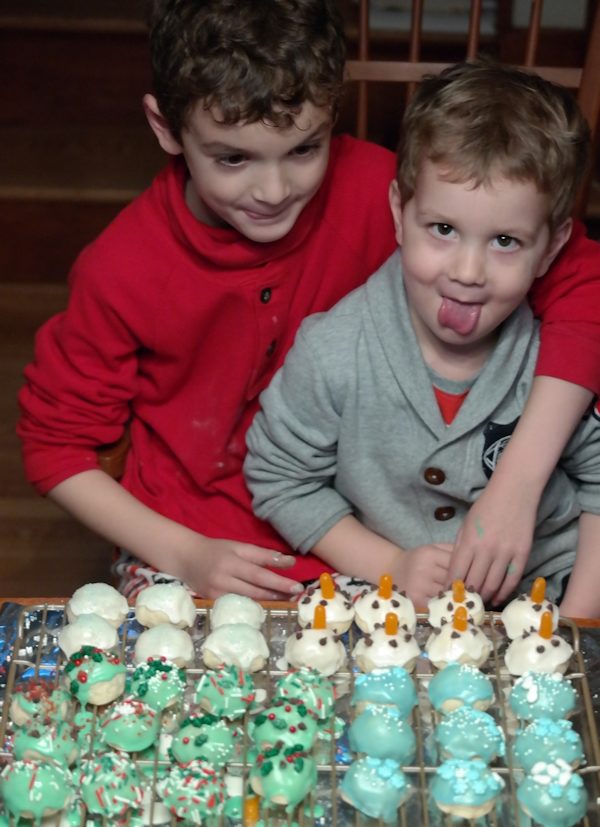 Looking at the holly and berry shaped sprinkles we had left, it occurred to me that I could make tiny Christmas Pudding Cookies. Not sure I wanted to tinker with the recipe on my own, I was happy to find a Chocolate Bon-Bon recipe on the King Arthur Flour website.
Bon-bons contain just a few simple ingredients. For the chocolate version, you'll need: butter, flour, cocoa powder, vanilla and powdered sugar. I decided to add 1/3 cup of mini chocolate chips, as well.
Once the dough was mixed together, I rolled it into balls, approximately 1 inch in diameter.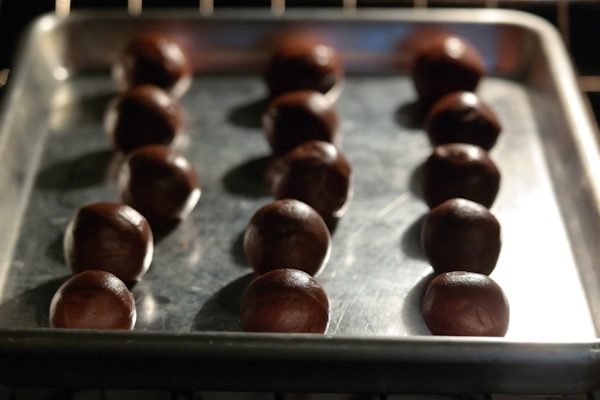 I baked the cookies at 350 degrees for 12 minutes.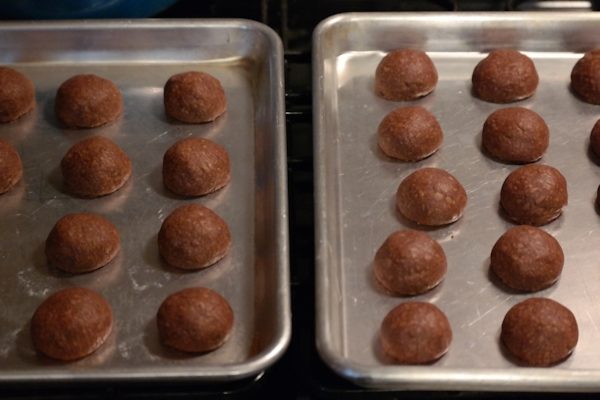 While the cookies cooled, I created a glaze using powdered sugar, water, and about a teaspoon of vanilla extract. I kind of wing it for the glaze. I started out with about a cup of powdered sugar, added the vanilla, and then slowly stirred in water until it reached the consistency I was looking for–liquid enough that I could dip the cookies and it would flow down the sides just a bit, but not so runny that it would fall right off or look transparent.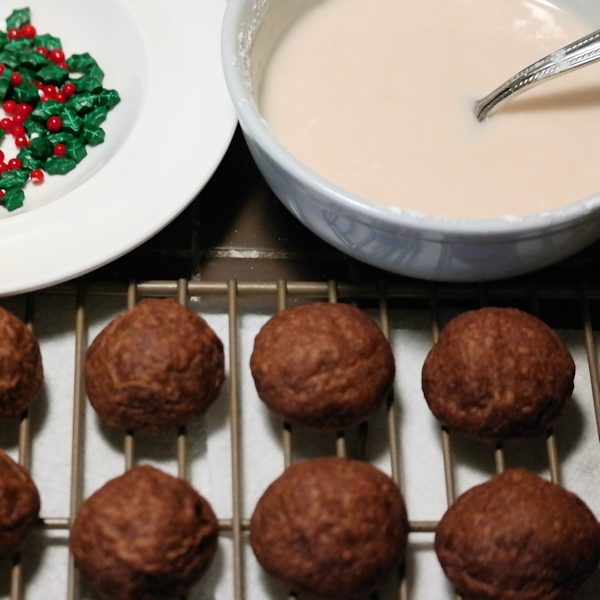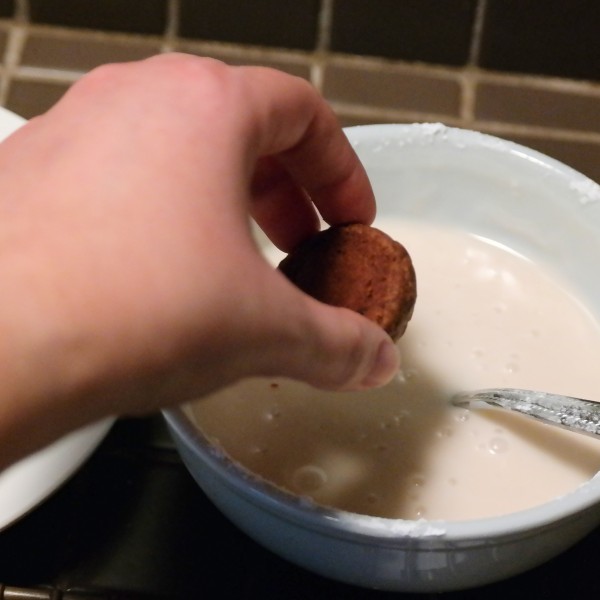 Before the glaze hardened, I added berry and leaf sprinkles to the top of each cookie.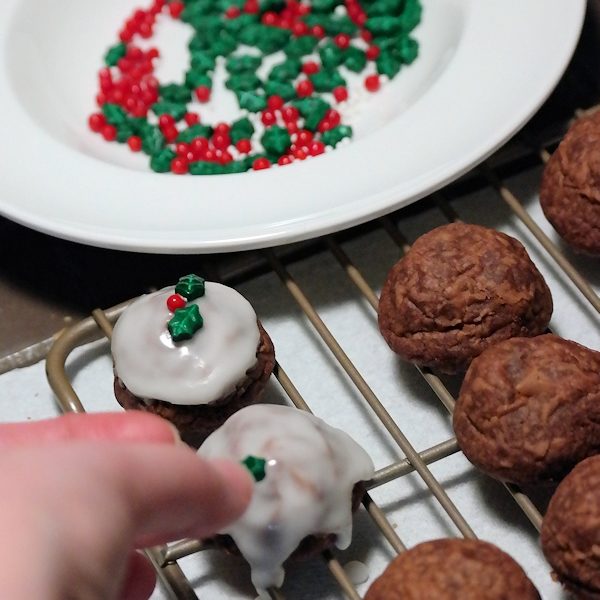 Aren't they adorable?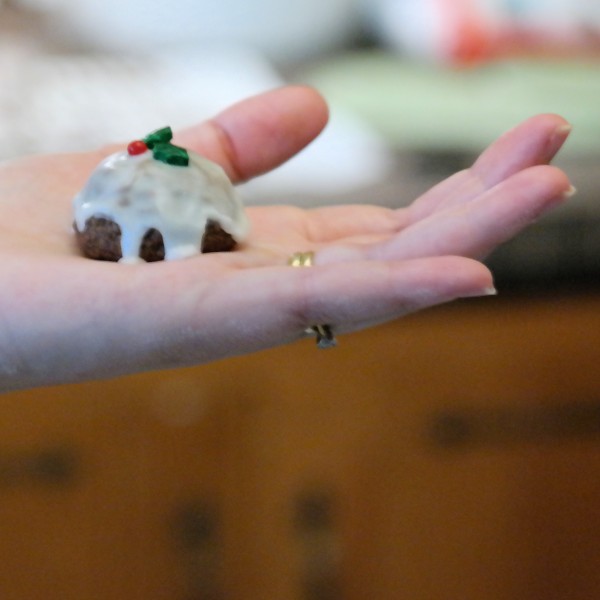 They taste like brownie bites.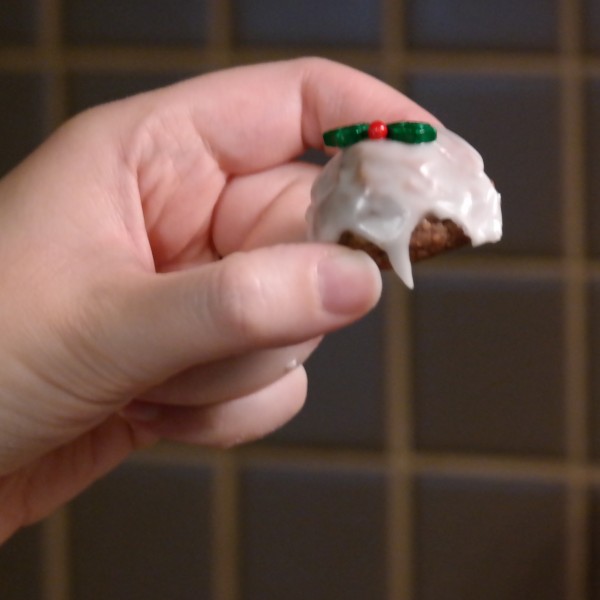 A very fun, easy, and cute way to add some British tradition to your holiday table even if you don't particularly care for real Christmas Pudding.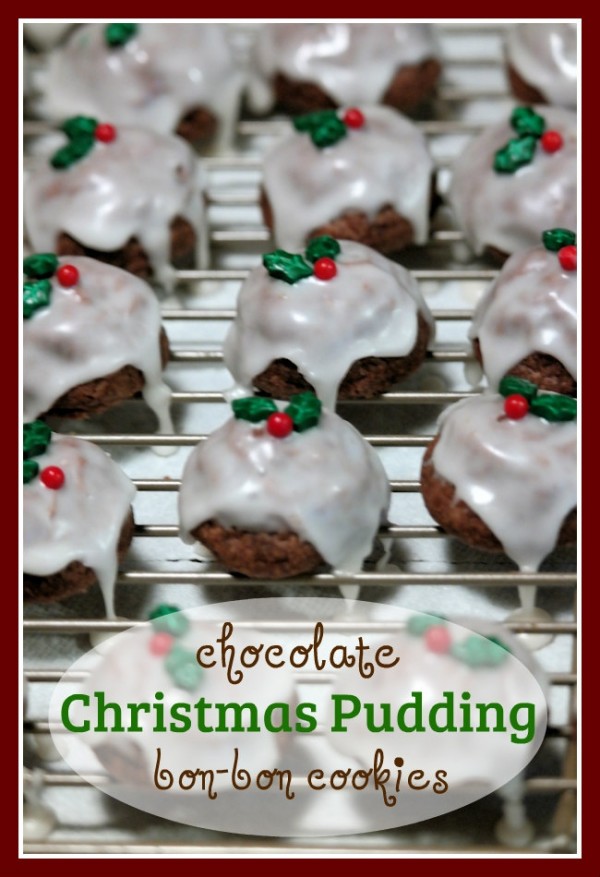 Find the recipe for regular Bon-Bons at Frugal Mama.
Find the Chocolate Bon-Bons recipe at King Arthur Flour.
p.s. If you would like to see what an actual Christmas Pudding is like, Tiptree's is my favorite store bought version that I have tried. It is pricey, but comes in a nice ceramic bowl that you can use long after you're done. I've found it in the international aisle at Wegman's, and give it to my husband as one of his gifts.
As they say in England, Happy Christmas!
DISCLOSURE: This website is monetized with affiliate links. I earn a small percentage of the sales price when visitors make purchases through affiliate links. Thank you for your support!
Share this post