Chicken Riggies
| Updated:
There isn't a whole lot happening in Central NY, but we definitely have our fair share of mouth-watering regional foods that we can be proud of. Chicken Riggies, Utica Greens and Pusties are just a few of my favorite eats that make people from other locales go "Huh?". In this post I will share a recipe I developed as a (poor) substitute for my favorite dish of Chicken Riggies from Teddy's restaurant in Rome. People can be very passionate about their specific riggies recipes, and I have had many different varieties over the years. But Teddy's remains my favorite; the balance of flavors is perfect, and their sauce is always creamy, not grainy.  There is simply no duplicating Teddy's riggies, but this gets me by.
Since I am rather averse to cooking with cream, I sub in cream soup instead (as I do in many recipes). It's much easier to work with, and depending on the particular variety, it can be a lot healthier too. I have a disproportionate number of mushroom-averse friends; if you don't do mushrooms just disregard them in the recipe and sub in a different cream soup of your choice. Most riggies recipes call for some wine. I leave it out since I have a munchkin to cook for now, but it would definitely make this recipe taste even better!
Hot sauce is a must-have ingredient in Chicken Riggies. Frank's Red Hot sauce is my absolute favorite–it's not just hot, it has a nice flavor too. Start with a little bit and work your way up – taste the sauce to decide how you like it.  As the old adage goes, you can always add more, but you can't take any out.
This recipe is quick, easy, flavorful, and you'll love all the colors on your plate. Enjoy!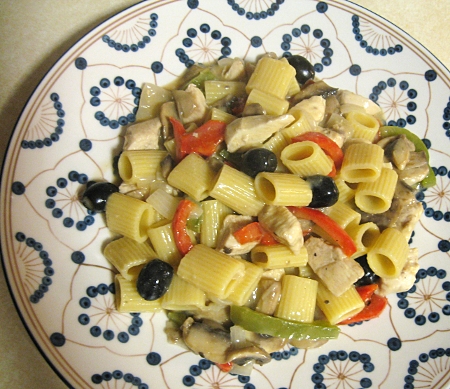 Chicken Riggies

Ingredients:

1 pound Rigatoni
1 pound Chicken Breasts, cubed
1/2 Red Bell Pepper, sliced
1/2 Green Bell Pepper, sliced
1 small Onion, diced
2 cloves Garlic, crushed
8 oz. Mushrooms, sliced
1/2 can Black Olives
1 can Cream of Mushroom Soup (I use the fat free type)
1 soup can full of Milk (I use fat free)
1/8 cup Hot Sauce (more or less, to taste)
1/2 cup Marinara Sauce or Tomato Sauce
Salt
Pepper
Olive Oil
1 Tablespoon Butter

Directions:

Boil water for pasta. Heat olive oil and butter in large pan over medium-high heat. Season chicken with salt and pepper. Add chicken, peppers, onion and garlic to pan and saute until chicken is cooked through. Add mushrooms, olives, soup, milk, hot sauce and marinara sauce, stirring to combine. Boil pasta. Simmer the chicken mixture while the pasta cooks (about 10-12 minutes). Drain the pasta, but do not rinse. Return pasta to the empty pot. Pour chicken mixture over the top, stirring until pasta is coated and ingredients are distributed evenly.
DISCLOSURE: This website is monetized with affiliate links. I earn a small percentage of the sales price when visitors make purchases through affiliate links. Thank you for your support!
Share this post