Check your cribs!
| Updated: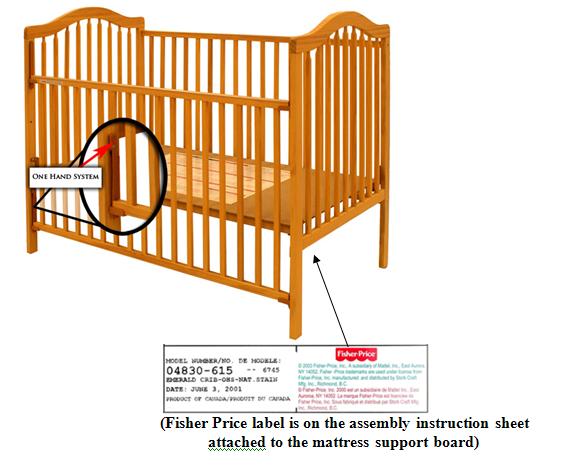 I am sure you have all heard by now about a massive recall of drop-side cribs.  Over 2.1 million cribs manufactured by StorkCraft have been recalled after four suffocation deaths.  In some cases, the plastic hardware has broken, causing the side to fall down.  In other cases, the cribs were incorrectly assembled, allowing the rail to come off the track.  This recall isn't the first.
I was so so picky back when I was shopping for cribs.  I saw the cheap plastic "hardware" on most inexpensive models, and new I would not even consider those cribs.  Plastic doesn't last forever, and I wanted my crib to last through several children.  There were very few affordable options that used non-plastic parts.  Fortunately I found a wonderful, quality crib on clearance, but I would have been willing to pay a little bit more.  I always urge people I know to pay extra for quality baby products if they can.  Items that are used daily and are so closely related to child safety (ie. cribs, playards and carseats) are not worth compromising on.  Give up some of the "wants" if it means affording a higher quality "need".  It makes me mad when I see a child with the best clothes, toys, etc. riding around in the cheapest budget carseat (often facing forward before it is safe to do so), but I digress.  Of course there are some parents who simply can't afford a higher price tag no matter how much they love their babies and how much they want them to be safe.  Shame on manufacturers for selling them an unsafe product!
The government is considering outlawing drop-side cribs altogether.  I'm not sure how I feel about that.  I purposely bought a drop-side because I knew it would be difficult to reach down into a crib to pick up my son otherwise.  We only used the drop side feature for a brief period when he was too old to have the mattress at the top setting, but too young to be able to sit or stand.  It did help greatly.  I am 5'8″, so I can't imagine even shorter mommies or those with bad backs doing without this feature.  Drop side cribs have been around for decades, and there are some brands that clearly know how to manufacture a safe drop side.
Although my son's crib is a Pali with metal parts, I am going to check it over to make sure that it is still safe for him.  Moving the crib around the room, and having him lean against the sides can cause things to loosen up a bit.  I urge everyone to do the same — check out your drop-side crib, regardless of the brand, to make sure it is still safe.  If you do have plastic parts, inspect them to make sure you don't see any cracks.  And of course if you do have a Storkcraft crib, please check to make sure it is not part of the recall.
DISCLOSURE: This website is monetized with affiliate links. I earn a small percentage of the sales price when visitors make purchases through affiliate links. Thank you for your support!
Share this post