Charity on a budget
| Updated:
Christmas and birthdays always present a bit of a challenge when you're living on a budget, but it's a challenge that I kind of enjoy. Each year our family has a small set amount to spend per person, and I like to see how far I can stretch my money. I keep an eye on sales and coupons to stretch my dollar to the max, so I can get a few nice things for my husband and son. Our Christmas budget is very small by some standards, but we get through the holidays without a huge financial burden; that peace of mind is a gift in itself.
So, Christmas isn't that big in our house. Maybe someday when we have more money at our disposal we will be able to enjoy nicer gifts, but for now I like to remember that there are some people who have even less than we do. Every year I participate in the giving tree at church, and it is fun applying the same money-stretching principles that I use at home to try to provide a nice Christmas for someone else, even when I don't have an awful lot myself.
I usually try to pick a little girl about the same age as my son. Although I love my son to pieces and couldn't imagine life without him, I had hoped for a girl…so I "adopt" one every Christmas. It's fun shopping for dollies and pink and bows instead of cars and dinosaurs and blue once in a while!
This year I was able to get some great bargains to put together a nice little package for a two-year-old little girl:
Combining a sale with a coupon code, I purchased a cozy hooded fleece tunic, a pair of ruched leggings and a pretty picot trimmed turtleneck from The Children's Place for about $12.00!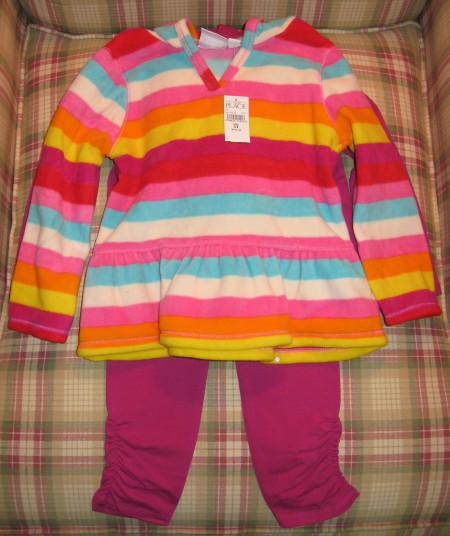 But everyone knows that "just" getting clothes is boring (unless maybe you're in high school), so I wanted to find a toy as well. I happened upon this adorable little Fisher-Price doll for only $10.00 at Walmart. Isn't she pretty? She has been standing on our dining room table for a few days, and I will be sad to see her go.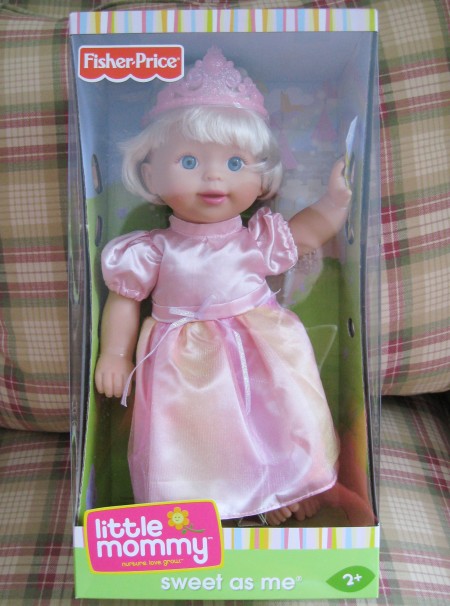 I will probably add a couple other odds and ends to the package, like some socks and hair bows. For about $30 I will have a nice little gift package of quality items. It isn't much, but hopefully it will brighten up Christmas for this little girl and her parents who don't have the means to play Santa.
What are some frugal ways that you give back to charity?
DISCLOSURE: This website is monetized with affiliate links. I earn a small percentage of the sales price when visitors make purchases through affiliate links. Thank you for your support!
Share this post