Carmex introduces new flavored moisturizing lip balm
| Updated:
When I shop, I pay a lot of attention to the brands and products that have been around for years. Carmex is one of those iconic brands that has been in production for decades because their products work. I was happy to team up with Carmex as part of their Blog Squad to occasionally review and give away their great products.
It's important to protect lips year-round from sun damage and chapping. As an upstate New Yorker, winter is on my mind this Labor Day weekend. Summer is just about over, and it won't be long before the snow begins to fall. The cold winter air and the dry forced-air heat always do a number on my lips. Carmex has introduced some new Ultra Moisturizing lip balms that provide extra moisturizing ingredients not found in their original product line, and I know they'll be a great help. They feature SPF 15 to protect lips from sun damage, and come in two flavors: Lime Twist or Vanilla.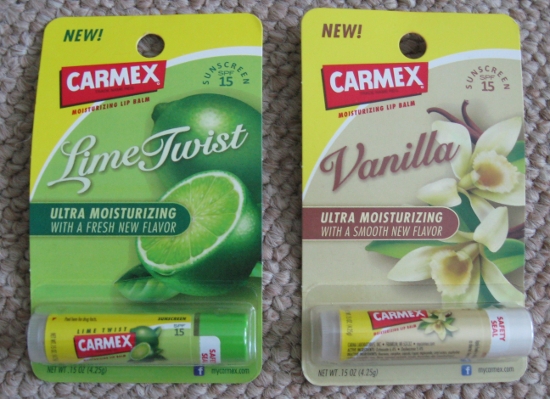 Carmex has been producing quality lip balm since 1937. I like the fact that they use a variety of natural ingredients such as beeswax, camphor, menthol and lanolin to heal and protect lips. These new lip balms have a softer, creamier texture that coats the lips easily with a layer of protection that lasts. It has that familiar Carmex "tingle" from the camphor and menthol that lets you know it's working. I found the flavors of both to seem very natural, but also subtle–it's not the sort of balm that you buy for the flavor and causes you to spend all day licking your lips, thereby making them feel worse. I especially liked the Lime Twist. The lip balms worked well to keep my lips feeling soft and moist, and added a nice shine. I know they'll work great to keep my lips healthy during the cooler months.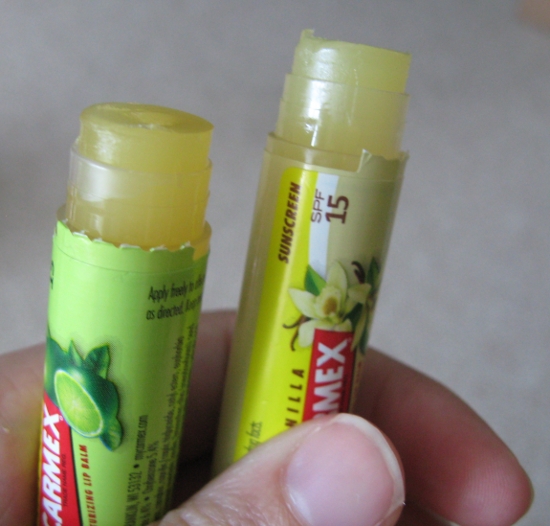 In addition to the lip balms, Carmex sent me a great picnic blanket that folds up and fastens with a zipper pouch on the front. It has a soft fleecey texture and is lined with a waterproof material on the back. Our family loves to be outside in the fall when the temperatures are more bearable and the air is crisp. We go apple picking in the hills, picnicking in state parks and mountain climbing in the Adirondacks to look at the beautiful leaves. This blanket will be nice to keep in the car for impromptu picnics on one of our excursions this fall.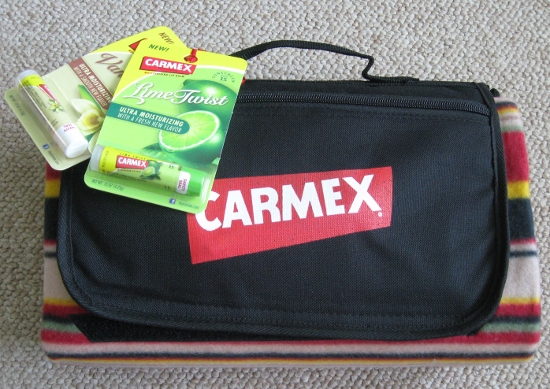 On a side note: Carmex does not test on animals, and as an animal lover I was thrilled to learn that 100% of the proceeds from their online merchandise shop benefit the Petfinder.com Foundation. I have been planning to adopt a dog just as soon as our family can afford to give one a good home, and have been scouring Petfinder.com for months. What a great cause!
Win it! (ENDED)
Please check the Winners List for the winner of this giveaway.
Carmex is giving away all of the items I reviewed in this post to one lucky reader! The winner will receive a Lime Twist lip balm, Vanilla lip balm and a picnic blanket perfect for watching outdoor sports or other fall fun!
To Enter
Leave a comment below telling me what you love about fall.
Extra Entries
You may leave one comment for each additional entry type that you complete below (or that you have already completed in the past):
– Like Carmex on Facebook
– Follow Carmex on Twitter
– Like Jen Spends on Facebook
– Follow Jen Spends on Twitter
Rules
Open to U.S. residents age 18 and older.
One entry of each type per person, limit two entrants per household.
Contest ends at 9:00 p.m. ET on Monday, September 12th, 2011.
One winner will be chosen randomly from all eligible entrants and notified by email. If winner does not respond within 48 hours, a new winner will be chosen.
If this is your first time commenting on Jen Spends, your comment will be held for moderation until I have a chance to approve it. It should appear soon!
DISCLOSURE: This website is monetized with affiliate links. I earn a small percentage of the sales price when visitors make purchases through affiliate links. Thank you for your support!
Share this post