Buying a jumperoo
| Updated:
I swore I would never get a jumper for my baby, but once he started to crawl I changed my mind.  I realized how much he needed a safe place to play where he would be happy while I accomplished small tasks around the house.  Sometimes I just need some extra time to clean the living room and vacuum up the carpet so he can safely explore.  Of course we have a Pack 'n' Play, but it's not a great place for him to release energy and he gets bored (and upset) quickly.
I did my research and found that certain jumpers and other stationary activity centers can be safe toys for babies as long as they are not overused (This does not apply to doorway jumpers, which are responsible for many injuries each year).  I also looked into walkers, but quickly learned that they are quite dangerous (there is always the possibility of bumping into furniture, or maybe even crashing down stairs), and can actually delay a child's ability to walk since they teach the baby to use different muscles while moving in an unrealistic seated position.  Not to mention I don't have nearly enough space for my baby to zip around in a walker.
Fisher-Price manufactures the best jumpers on the market.  Their "Jumperoos" fit a variety of needs and budgets.  I was also impressed with the Baby Einstein jumper, but in the end felt that it would be a little less fun for my baby.  I decided against exersaucers or other stationary activity centers because they offer little or no potential for growth, and at 7 months old, my little guy would already be reaching the height and weight limits.  Fisher-Price's Jumperoos have a 32-inch height limit, and a 25 lb. weight limit.  There are three different height adjustments.  The Baby Einstein jumper is similarly adjustable, but offers 6 height levels. All of these jumpers feature a washable cloth seat which turns 360-degrees to access different toy "stations". There are a variety of toys, including some that feature lights and music. The frames are sturdy metal, and the springs are covered with fabric for baby's protection.
I found that Walmart.com generally had the best prices (with Amazon.com
coming in a very close second). I headed to my nearest Babies R Us to look at the different jumpers in person before ordering online. They had four of them in stock: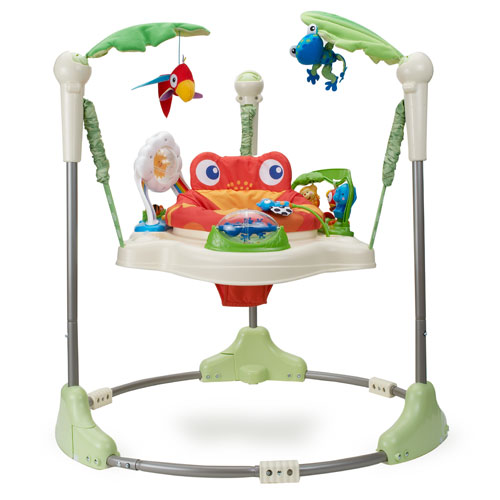 Fisher-Price Rainforest Jumperoo
Cheapest at Walmart.com

($79.98 as of this writing)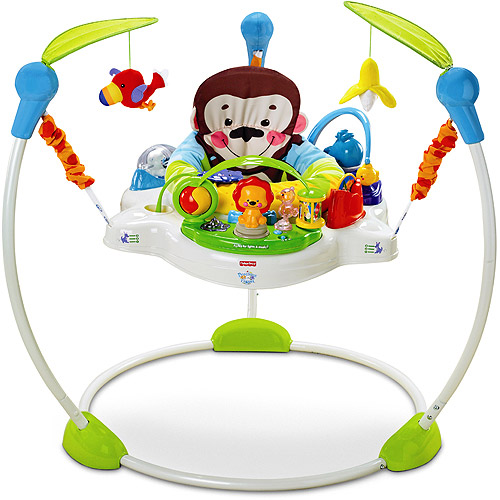 Fisher-Price Precious Planet Jumperoo
Cheapest Walmart.com

($80.00 as of this writing)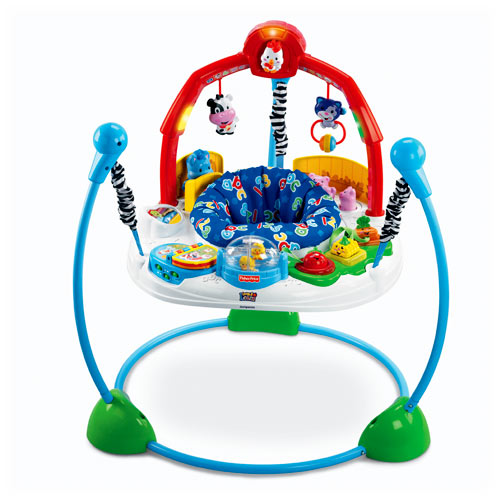 Fisher-Price Laugh N Learn Jumperoo
Cheapest at BabiesRUs
($99.99 as of this writing, but be sure to check for coupons!)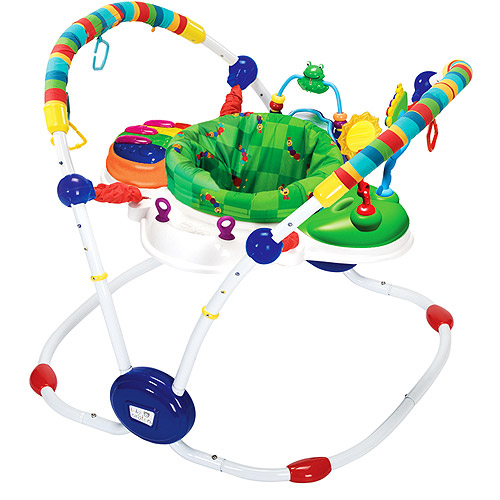 Baby Einstein Musical Motion Activity Jumper
Cheapest at Walmart.com

($76.88 as of this writing) I also spotted it at my local Sam's Club for under $70.
If you have a tight budget or you want to buy an additional Jumperoo for Grandma's house, Walmart.com
also sells the Fisher-Price Deluxe Jumperoo for just $47.00 (as of this writing).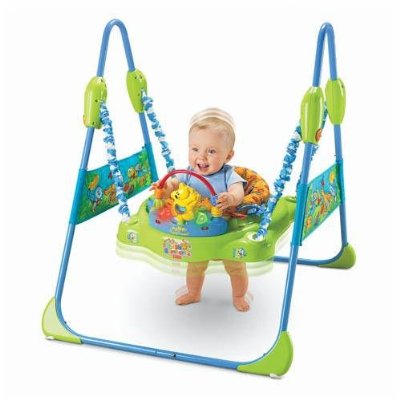 Fisher-Price Deluxe Jumperoo
It lacks the 360-degree turning seat and the variety of toys that the pricier Jumperoos feature, but it is still a quality product with adjustable height.
Although my favorite of all of them was the decked-out Laugh N Learn Jumperoo, at $99.99 it was much more than I could afford, and since I knew the other versions would entertain my baby just as well, it wasn't splurge-worthy. It was super cute though, and if you have the funds I don't think you would be disappointed. My favorite features were the vegetable "blocks" that fit into shaped spaces, and the built-in story book. The Baby Einstein jumper was a good and inexpensive option, but the toys didn't fit my baby's personality and interests. My little guy lit up when he saw the Rainforest and Precious Planet Jumperoos, especially when he heard that they each had rattles on them (his favorite kind of toy).
Deciding between the Rainforest and the Precious Planet was very difficult. Both have a similar theme, and nearly identical features. In the end I decided on the Rainforest because I could get it for a lower price, it would take up slightly less floor space (due to straight rather than bowed poles), and it had a fold-up feature. I have heard that the Rainforest line of products is being replaced by Precious Planet (and some lucky people have found the Rainforest Jumperoo for super-cheap on Clearance), but the Jumperoo is still available at Wal-Mart (online) and Babies R Us (online and in-store).
I ordered the Rainforest Jumperoo from Walmart.com since they offered the lowest price at the time. I was able to assemble the jumper quickly and easily (it took about 5 minutes). I'm always impressed with the quality of Fisher-Price toys, and this did not disappoint. I have only two minor qualms with the Jumperoo. First, the seat can be a little tricky to get the baby in and out of due to placement of the leg holes (I'm sure this is a safety feature though). And second, the Jumperoo is not the easiest to transport. The fold-up feature is nice, but is really only good for taking up a little bit less space when in storage. The Jumperoo is not heavy, but it is cumbersome for one person to move around. The poles unlock and pop out from the base easily for quick disassembly, but this is not something you will want to pack up and take on regular trips to Grandma's (we tried it once, and it proved annoying).
These Jumperoos are rather expensive, but I am so glad I decided to make the purchase! It took my son about 5 seconds to figure out how to use his new toy, and he had the most delighted look on his face as he bounced up and down all by himself! He's a little ball of energy, and this gives him an outlet to release some of it without getting into dangerous situations around the house. Even though he's on the upper end of the growth chart for height, he still uses the first setting on his Jumperoo, so hopefully he will be able to use it for several months to come.
DISCLOSURE: This website is monetized with affiliate links. I earn a small percentage of the sales price when visitors make purchases through affiliate links. Thank you for your support!
Share this post