Boysterous Boys from Manhattan Toy
| Updated:
There are plenty of dolls geared toward little girls, but for boys the options are more limited. Manhattan Toy fills that niche with a cool line of soft poseable action figures with a sports theme. I first learned about Boysterous Boys through a blog review, and thought they were the greatest idea. I was delighted to have the opportunity to review one of them myself.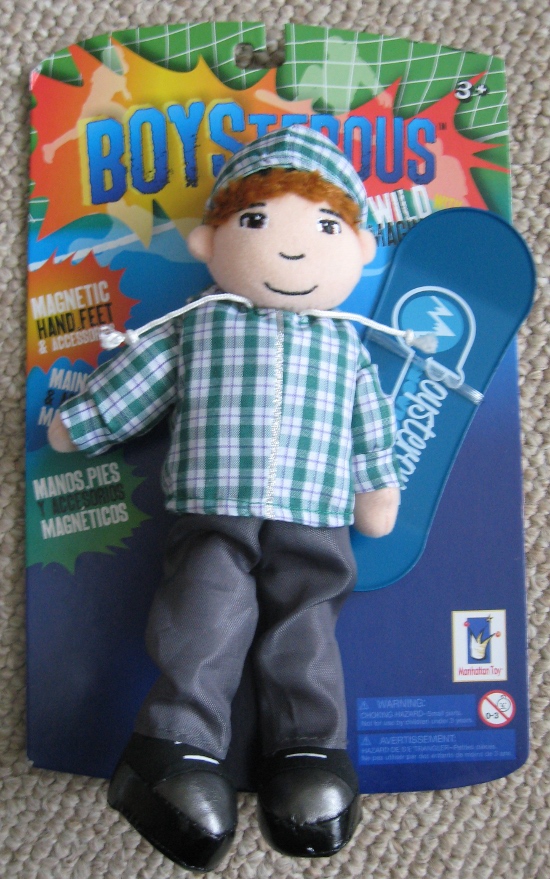 Manhattan Toy currently offers five different boys to choose from: a skateboarder, a hockey player, a soccer player, a football player and a snowboarder. They also make a neat "play environment" that serves as a skateboard ramp, a football/soccer field and a carrying case for the boys. I received Slope Shreddin' Sean for my review. Having only seen pictures previously, I wasn't sure exactly what to expect, and I was pleasantly surprised by the detail and features of this product.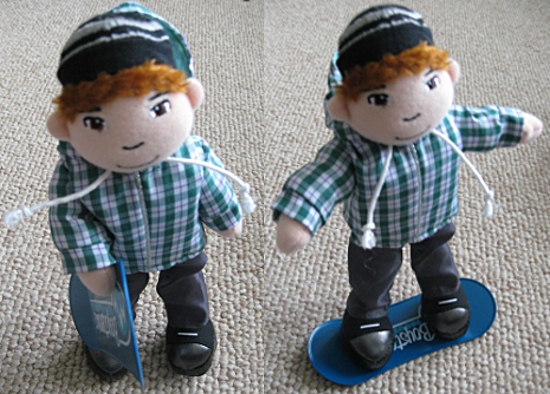 Sean stands about 9 inches tall. The doll's body is a fuzzy felt-like material. His flexible wire armature means that he is fully poseable. His facial features are embroidered, and he has fuzzy ginger hair. Sean wears a non-removable outfit of black boots, gray snow pants, and a plaid "down" jacket. At first I assumed the hood was fixed to his head, but no; it pulls down to reveal a cute ski cap with embroidered stripes, and more ginger hair. I love little details like that.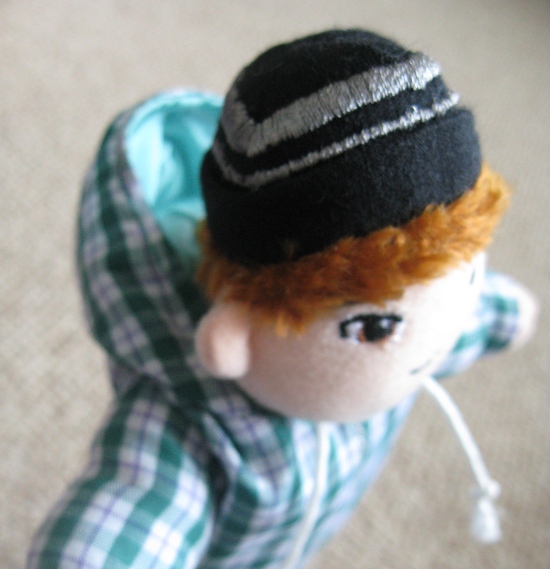 I have to admit that I didn't do a lot of research on Slope Shreddin Sean before I received him, so it was quite a nice surprise when I discovered that his snowboard was metal, not plastic like I had expected. Why metal? Because Boysterous Boys all have magnetic hands and feet enabling them to hold their accessories. It's so cool the way he can stand up all by himself, or hold his snowboard in his hand, and it makes action-packed imaginative play much easier. My son had a lot of fun pretending that Sean was snowboarding (and of course the inevitable crashing) down a pile of pillows.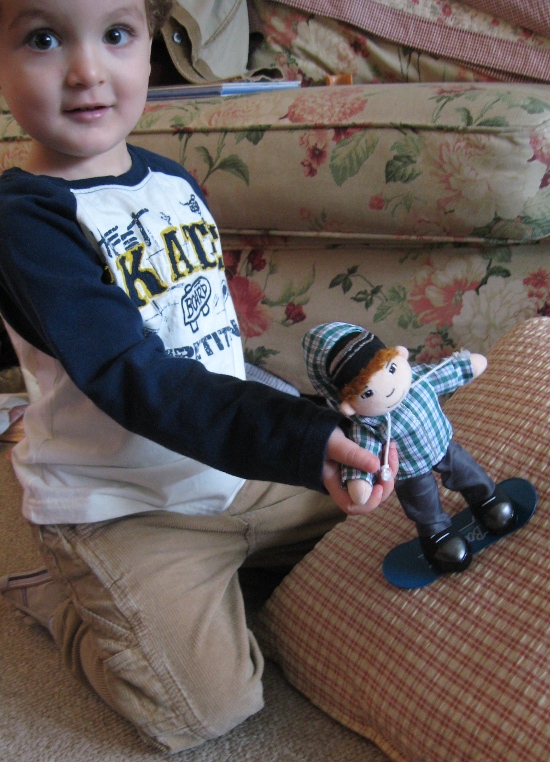 Boysterous Boys have a retail value of $17.00 and the Extreme Sports Zone carrying case sells for $30.00 on the Manhattan Toy website. I prefer to stick with basic, high quality toys for my son so that he can use his imagination and the toys don't go out of style. Boysterous Boys definitely fit my criteria, and I would recommend them as a unique gift idea for the sports-loving boy (or girl) on your gift list. Purchase from Manhattan Toy online, or through a specialty retailer near you. These toys are suggested for ages 3 and up.
Win it!
Manhattan Toy wants to give one lucky reader their own Slope Shreddin' Sean action figure!
Enter using the Rafflecopter form below (this may take some extra time to appear). If you are viewing this via email or an RSS reader, please click to my website to see the Rafflecopter form and enter. The contest will end on Tuesday, November 29, 2011 at 12:01 a.m. ET.
DISCLOSURE: This website is monetized with affiliate links. I earn a small percentage of the sales price when visitors make purchases through affiliate links. Thank you for your support!
Share this post