Boston Market Opens First Food Court Location in Syracuse
| Updated:
I received a Boston Market gift card for review purposes. As always, the following thoughts are my honest opinion.
Boston Market has finally ventured into Central New York with their first ever food court location in the Destiny USA mall. I was asked to visit the new restaurant to see how Boston Market fares as a food court presence.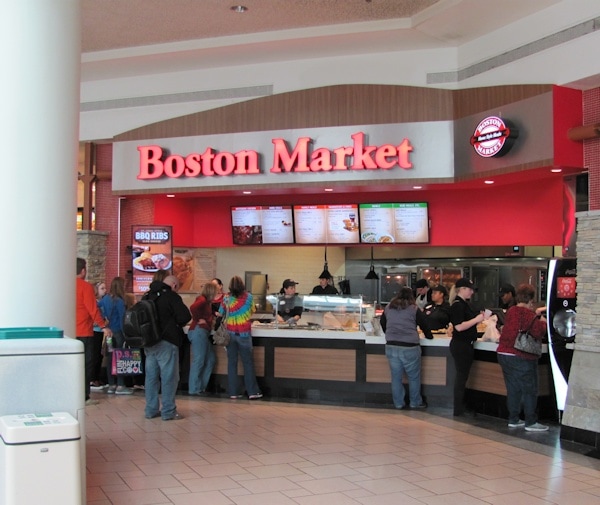 The new restaurant is located between Arby's and Popeye's on the left side of the food court (when facing the carousel). I arrived around 12:30 along with my team of restaurant testers, and the food court was bustling. There was a fairly significant line at Boston Market, but it moved along quickly. I noticed a steady stream of customers during our time in the food court.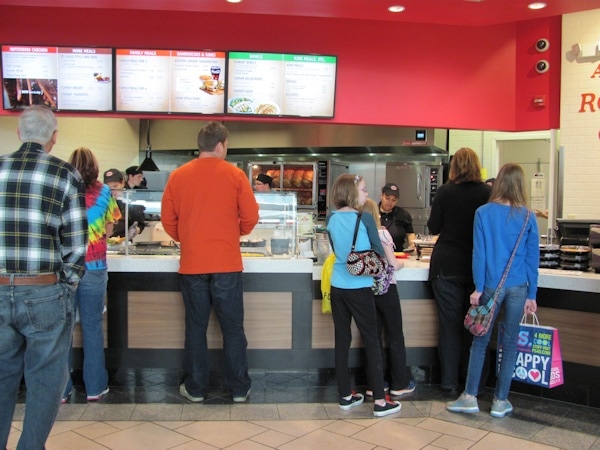 Food Court Design
The restaurant features a simple but attractive design including a mix of red and cream tile (I particularly liked the subway tile), faux wood and stainless steel. Its size compares to other food court restaurants.
The restaurant is constructed so that much of the food preparation is readily visible. Toward the rear, two large rotisseries were packed full of chicken at various stages of doneness. It's nice having a clear view of the kitchen area, which was kept clean and neat.
At the front, prepared food is placed on display where customers can view their options. Supplies were frequently replenished.
Boston Market's Food Court Menu
The food court location has a much smaller menu than regular Boston Market restaurants, but there is a little something for everyone. Destiny USA diners can choose from Rotisserie Chicken, Turkey Breast, or BBQ Ribs, along with sides like Sweet Corn, Creamed Spinach, Green Beans, Mashed Potatoes and Gravy or Mac & Cheese. Rotisserie Chicken Pot Pies are a customer favorite, and they disappeared quickly from the counter.
If a hot meal seems too heavy for lunch, choose from options like a Caesar Salad Bowl or two different Boston Carver Sandwiches.
I learned that Boston Market has taken steps in recent years to improve nutrition at their restaurants. In 2008 they reduced trans fats to less than 0.5 grams per serving, and in 2012 they began reducing the sodium content in their meals (their goal is a 15 percent reduction by 2014). Boston Market boasts a variety of meals under 550 calories; while not all of these options are available at the food court, a few are. Boston Market uses "naturally raised" grain-fed chickens that are hormone-free and locally sourced.
I was surprised to learn that even though the Syracuse Boston Market location is a smaller-scale food court restaurant, they still offer catering services like other Boston Market locations. A catering menu was available at the counter and featured a variety of affordable options. Boston Market will deliver within 10 miles.
Boston Market Prices
The food prices on the regular menu range from a $3.99 Chicken Noodle Soup up to a Meal for 4 at approximately $30.
A 32 oz. soda (the only size offered) from the Coca Cola Freestyle machine costs $1.99. You can also pick bottled water for $2.09, or bottled milk at $1.29.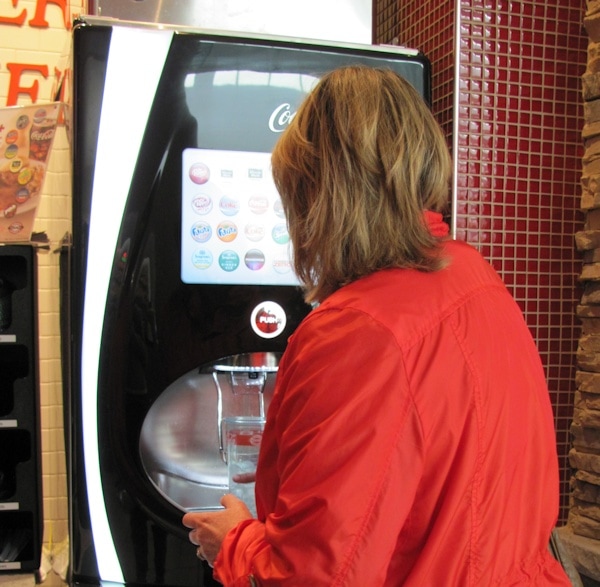 The prices are perhaps a bit higher than other fast food options, but you really get a lot for your money, and I think the food is higher quality. Everyone in my group felt that the prices were reasonable for the quantity and quality of the food we received. Where else in the food court can you get freshly roasted rotisserie chicken with healthy vegetables on the side?
Service
Behind the counter was buzzing with various employees preparing food, fulfilling orders and cashing out customers. The staff were cheerful, helpful, professional and efficient. Our order was long and complicated because we wanted to try many different things, but it went smoothly. The cashier was unflappable as the various trays and dishes made their way down the counter, and she rang us up quickly.
Our Boston Market Review
My fellow taste testers and I ordered a variety of different items in order to give a thorough review.
Although there are kids meals available, our two kid testers had their hearts set on a "chicken popped pie". We ordered one to split between the two of them, and the staff were happy to accommodate us with an extra plate. The boys gobbled their lunch right up — they loved it!
My mom and sister ordered individual meals. Mom had a half chicken with two sides and my sister had the Quarter Rack of BBQ Ribs and Quarter Rotisserie Chicken Meal (also with two sides). Both thought the rotisserie chicken was moist and delicious, and they enjoyed the side items. I tasted a bit of the BBQ ribs, and wished I had ordered some myself. My mom and sister were both "stuffed" after eating their meals.
I tried a couple different things. First, a Market Bowl, which is like a mini meal all in one dish. I selected mashed potatoes and green beans topped with chicken breast and gravy. I was impressed that the chicken was carved fresh right when I ordered. It was tender and delicious. The green beans were slightly crunchy, just how I like them, and I tasted a hint of garlic. Overall, it was a delicious small meal that didn't make me feel too full.
Since I normally prefer cold lunches like sandwiches or salads, I also wanted to test a Boston Carver Sandwich to see how it compared to their usual offerings. The server "smashed" a freshly sliced chicken breast which she added to a sliced roll along with lettuce, tomato, dijon mayo, cheddar cheese and vinaigrette. The sandwich was delicious!
The bread had the taste and consistency of a french baguette, and the toppings were fresh. The generous portions of chicken reminded me of a homemade sandwich made with leftover roast chicken (but of course even better, because the chicken was fresh). I can't wait to go back for another Boston Carver.
Conclusion
Overall I think Boston Market works very well in a food court setting. Though the menu has fewer options than a standard Boston Market location, that helps to speed along the ordering process, and enables the staff to focus on preparing a few quality items in a smaller space. The food choices work great for lunch or dinner, and it's easy to select healthy options without spending a lot of time studying a menu.
I'm happy that Boston Market chose Destiny USA in Syracuse for their first food court location in the country, and I look forward to eating there again.
DISCLOSURE: This website is monetized with affiliate links. I earn a small percentage of the sales price when visitors make purchases through affiliate links. Thank you for your support!
Share this post