Clever baby products from Boon
| Updated:
Boon, Inc. sent me free product for review purposes. As always, the following thoughts are my honest opinion.
When I'm choosing baby products, design is almost as important to me as functionality. Boon is one company that produces high quality, functional, and fashionable products for babies and kids. Their minimalist designs, while decidedly modern, will fit discreetly in any decor.
I've used Boon products since my oldest son was a baby, and I turned to Boon again when I was shopping for baby number two (we love our cute, but functional, Boon Naked bathtub). I was happy to try out two newer products from Boon that intrigued me.
Boon Fluid Review
The Boon Fluid (MSRP $7.49) is a 9 oz. sippy cup designed for children 9 months and up. The product has been redesigned recently to address some concerns. It was formerly donut-shaped with a hole in the middle for an easy grip, but from what I've read, parents found it difficult to clean.
The newer version retains a similar overall shape, but without the hole in the middle, allowing a bottle brush can wipe away residue. I'm very picky about cleanliness of baby items, so I appreciate the redesign.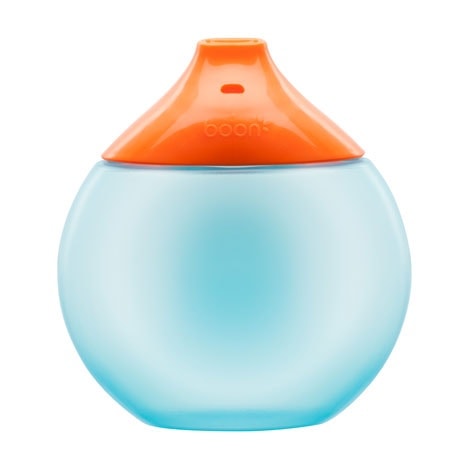 My baby is ten months old and just beginning the transition to sippy cups, so he isn't quite ready to drink from a cup like the Boon Fluid. However, it was easy for him to hold himself, and he did understand that the spout was meant to go in his mouth. He loved the bright colors.
A standard 9-oz. cup can be rather unwieldy for babies just beginning to drink from a cup, and I think this shape makes it a lot easier for them to tilt and drink. Once my son learns the proper drinking action, I'm sure this cup will work well for him.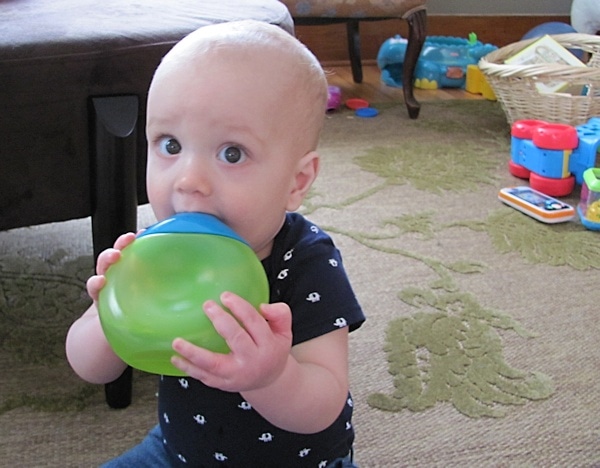 There are many different kinds of sippy cups on the market, and parents have strong preferences. I remember what a trial it was finding just the right kind of cup that would work for my older son. The Boon Fluid fits the criteria I developed through much trial and error. It has just two parts, so it's easy to clean. There is no fussy separate valve system. It's also fairly easy to drink from — I tested it myself, and it did not require much effort to drink water from the cup. I've found that sippy cups with fancy valve systems tend to be very difficult to drink from, which is especially tough for babies just making the transition from bottle to cup.
Leakage is a top concern for parents because toddlers love nothing more than to shake cups upside down, throw cups, hide cups, etc. I found the Boon Fluid to be very leak resistant; not a drop fell out while holding it upside down, and only a very vigorous shake could cause water to drip out. In my experience the most leak-proof cups tend to be virtually drink-proof as well, so I'm happy to deal with slight leakage in exchange for my child being able to drink easily.
The downside to this cup's unique shape is that it's not going to fit in a car cup holder or the bottle pockets in your diaper bag, but I think it's great for home use (or for tucking in the main diaper bag compartment).
Boon Gnaw Review
I was very eager to test out the Boon Gnaw (MSRP $7.49) as soon as I read the description. It's a tether tool that clips to baby's clothing and uses Chinese finger trap technology to hang on to teething toys and teething snacks. It sounded like a really neat idea, but would it work?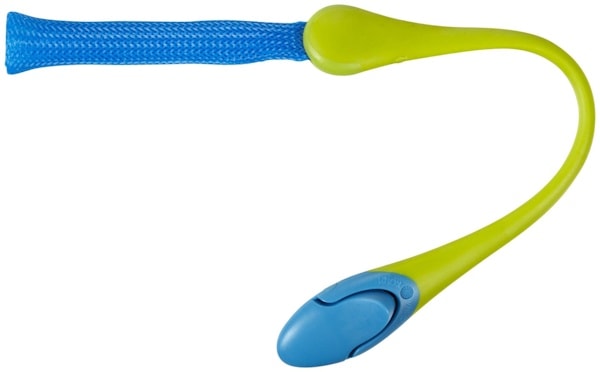 My husband and I are accustomed to packing a whole bag of small toys for the baby to play with during church or at restaurants. He's teething, and everything goes into his mouth. Maybe I'm a germophobe, but when his toys fall onto the floor, especially in a public place, I act as though they touched a bathroom floor in Grand Central Station — they're off-limits until I can wash them in hot, soapy water. Of course our soon-to-be-toddler is learning to throw and drop for fun, so we can go through a whole slew of toys in short order.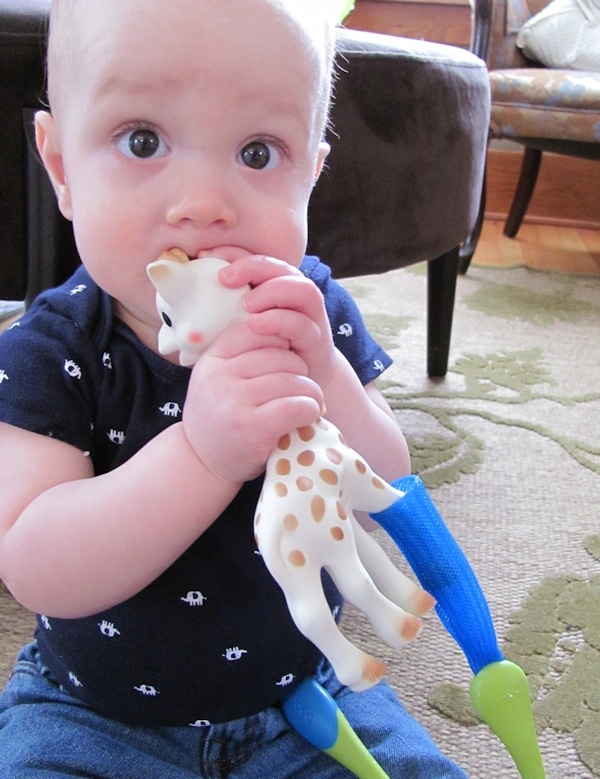 The Boon Gnaw does exactly what it says it does. Insert a toy into the mesh gripper end, and it will tighten around the toy when it's pulled. Compress the mesh, and it will release its grip. I clipped the tether onto my son's belt loop, and it stayed put until I removed it again.
The shapes and sizes it can accommodate are somewhat limited, but toys with long narrow portions should work well. I suspected that one of my son's favorite toys, Sophie Giraffe, would be a good test candidate, and it worked perfectly! See for yourself how it grips one of Sophie's legs and doesn't let go:
We also tested the Gnaw as a snack holder. It gripped a teething cookie very well so my baby could chew on it without dropping it on the floor (sorry, Ringo dog). The particular cookies I used (Ella's Kitchen) are about 1 1/2 inches wide, and I needed to insert about 1 inch of the cookie into the Gnaw for it to grip, so a good portion of the cookie was still available to mouth.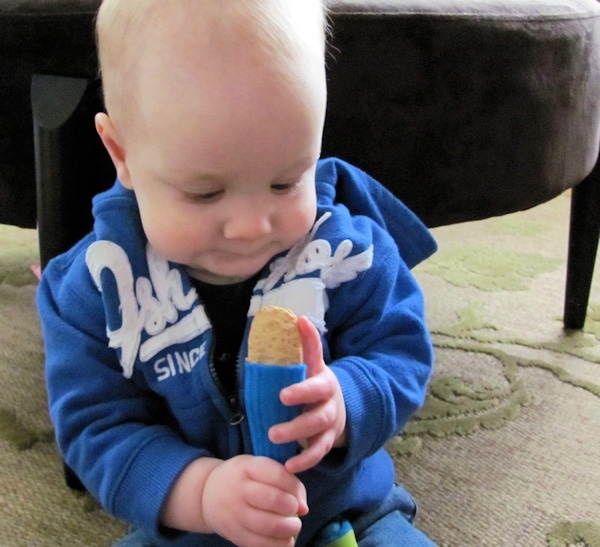 The cookies I used are rather crumbly, and the first time I tried to remove the remainder of the cookie from the mesh portion of the Gnaw, the cookie crushed. It was a little tricky washing the crumbs from the long mesh tube. On a second try I found that, being a little more careful, I could remove the end of the cookie with minimal crumbs. I think some snacks would be easier than others to use with the Gnaw.
Overall I prefer the Gnaw as a toy holder (just because cleaning is so much simpler), but I think it's also an ingenius solution for holding onto teething biscuits — there really isn't a better option out there. As with any tether-type product, never leave a baby unattended while using it.
To Buy
Both of these products are great problem-solving options for parents who care about function, quality and style. Babies love the fun colors and smooth shapes. Both products are BpA-free, Phthalate-free and PVC-free. You can purchase the Boon Gnaw and the Boon Fluid along with other great Boon products on Amazon.com
DISCLOSURE: This website is monetized with affiliate links. I earn a small percentage of the sales price when visitors make purchases through affiliate links. Thank you for your support!
Share this post