Baked Tostadas
| Updated:
I thought I'd share this easy and inexpensive recipe that I created to use up leftovers. I love it when I'm able to use ingredients for more than one meal during the week–not only does it save money, but it's convenient, too! These tostadas can be topped with a wide variety of ingredients and they bake all at once in the oven instead of one by one in a frying pan. Tonight I had some extra shredded pork from making pulled pork earlier in the week. Refried beans, chili, rotisserie chicken or shredded beef would also make great toppings. I like to use shredded coleslaw mix instead of lettuce because it's healthier, often cheaper, and adds a nice crunch. Corn tortillas instead of flour also make for a healthier, more frugal choice.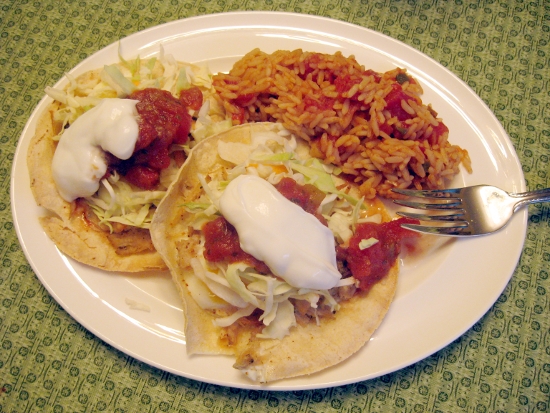 Baked Tostadas

(Makes six)

– Six corn tortillas
– 1 1/2 cups cooked meat or beans of choice (such as pork, chicken, beef, refried beans or chili)
– Six eggs
– Shredded coleslaw mix
– Salsa
– Sour cream
– Salt and pepper

Preheat oven to 375. Line a baking sheet with foil and spray or brush with cooking oil. Arrange tortillas on baking sheet. Spread meat or beans on each tortilla, creating a well in the center. Break an egg into the center of each tortilla and sprinkle with salt and pepper. Bake until eggs reach desired doneness (approximately 20-25 minutes). Top with coleslaw mix, salsa and sour cream. Additional toppings might include chopped onion, shredded cheese or avocado.
Tonight I served these with spanish rice on the side (I cheated and used a box mix). We love tex-mex food in our house, and this is a really easy way to get those flavors and textures without a lot of work.
DISCLOSURE: This website is monetized with affiliate links. I earn a small percentage of the sales price when visitors make purchases through affiliate links. Thank you for your support!
Share this post