Baby's bedtime buddy
| Updated:
My son was always great about going to bed independently. He slept in his crib from the first night he was home, and we could put him to bed before he was asleep. But somewhere along the way, he (and his desperately tired Mommy and Daddy) became dependent on a bottle to fall asleep. It didn't seem like a problem at first, but as he became more mobile, he started waking up numerous times throughout the night, unable to settle himself back down to sleep. Naptimes became a struggle as well, and some days he would sleep for only 30 minutes.
We were all becoming miserable from the lack of sleep, so I decided it was time to take the bull by the horns and teach our baby how to once again sleep independently. He is extremely high energy and curious, and has a great deal of difficulty settling down to sleep. Further complicating things, he had started to experience separatation anxiety when left alone in his room. I wasn't looking forward to the process of "sleep training", and wasn't at all confident that we'd be successful, but I wanted to give it my best try.
My husband and I established a nightly routine for our son that we would stick with no matter what. Wanting to thoroughly ditch the old, comfortable habits, I also decided to introduce a new toy that my son would be able to cuddle with only at naptime and bedtime. I wanted him to have something fun to help him enjoy his new routine, and to help him feel secure. Playskool's Gloworm immediately sprang to mind. I had one as a kid, and loved it. It wasn't that I needed it to fall asleep, but I always loved watching it glow in my dark bedroom.
I brought my son to Walmart to help pick out his new toy. We both loved the Gloworm, and it was very affordable at less than $12 (batteries included!). I had some slight misgivings about it, however. First, it looked a little bit girly to me, almost like a doll. I wish there were a variety of Gloworms to choose from, including a version more suited to boys. My second minor qualm was the button on the Gloworm. It's easily pressed, but is relatively small, and I thought it might be difficult for my young son to press it on his own–its location is not immediately obvious. The button needs to be pressed very purposefully, not just hugged as I had thought. Still, the Gloworm seemed like a suitable toy for what I wanted to achieve, and I stuck it in the cart.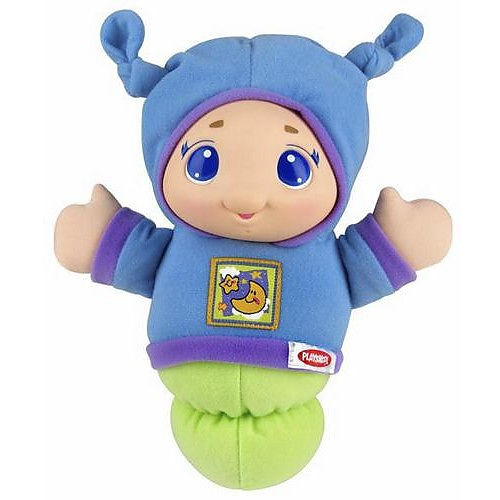 I always like to explore all my options, though, and took one last look through the toy aisle before we headed to checkout. The adorable Ocean Wonders Soothe & Glow Seahorse by Fisher-Price caught my eye. The concept is very similar to the Gloworm, but it seemed much more gender-neutral. I also loved its functionality–the tummy can be pressed anywhere to cause it to light up and play music. We had just taken our son on his first vacation to the coast, so an ocean-related toy was perfect. I decided to swap the Gloworm for the seahorse.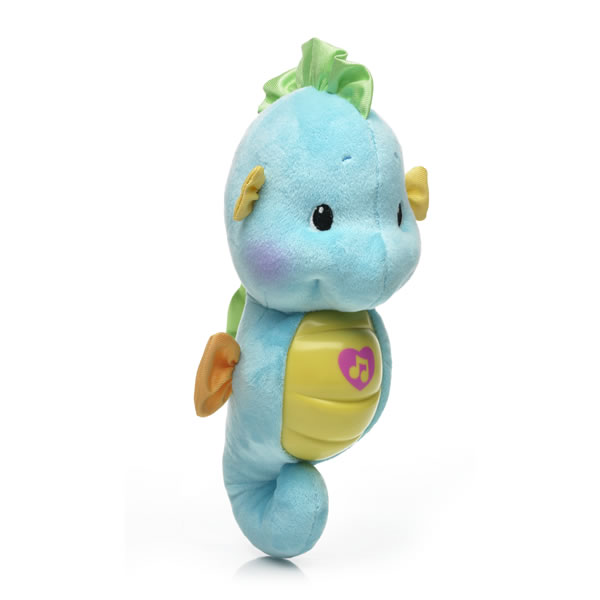 The toy has served exactly the purpose that I had hoped. It has helped keep my son's attention at bedtime, giving him something soothing to focus on, rather than bouncing around in his crib. He enjoys feeling the different textures, including the fuzzy body, the shiny fins, the eyes, and the bumpy ridges on the belly. It didn't take him long to figure out how to make his seahorse light up and play music all by himself. The seahorse plays a variety of classical tunes, and a volume control provides two different sound levels. I was a bit disappointed that the "ocean sounds" the package promised were limited to gurgling bubbles rather than the crashing waves I had hoped for, but my son enjoys the music and sounds that it does play. The music and light will stay on for a full five minutes. The entire belly lights up, casting a soft glow in a dark room–great for insecure youngsters.
Two weeks later, my baby is having a much easier time falling asleep (and staying that way). No, it wasn't just because I handed him a glowing seahorse to cuddle, but it was an inexpensive way to help him adjust to new habits. My son isn't so attached that he can't sleep without his seahorse, but I do believe it has helped him. I'm really glad I purchased this cute toy!
DISCLOSURE: This website is monetized with affiliate links. I earn a small percentage of the sales price when visitors make purchases through affiliate links. Thank you for your support!
Share this post