Amazon $100 coupon book when you buy select parenting books
| Updated:
I thought I'd venture back into "deal blogging" briefly to give you the specifics of an Amazon deal that I've seen all over the blogosphere and on deal forums. Most of the posts I read were very vague, but I decided to take a chance and found that this deal was helpful for me.
The deal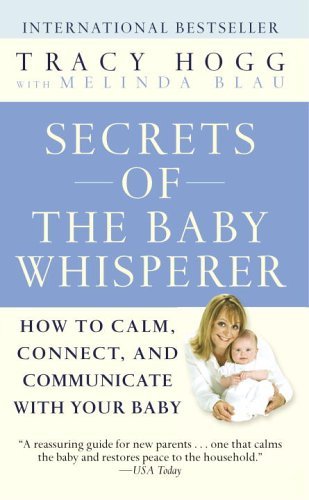 Right now Amazon is offering $100 in baby, mom and home-related online coupons with the purchase of select parenting books. Prices start around $8 (unfortunately the Kindle versions do not qualify for this deal). I highly recommend Secrets of the Baby Whisperer, but there are many other great books on the list. Once you have ordered a qualifying book, you will automatically receive a separate email with a link to the coupons a little while later. At first I was worried that I had been scammed because the link looked like something anyone could type into a browser to access, but I logged out of Amazon and verified that the special coupons are only accessible if you have purchased a qualifying book.
The coupons
At first I was underwhelmed by the coupon selection, especially for baby products, but eventually found some great deals (more in a minute). Here is a listing* of all of the coupons I received. I assume they're the same for everyone.
Home Care

Save $3.50 on BabyGanics All Purpose Cleaner 3-pack of 32 fl oz bottles
$4 Off Bounce Free & Sensitive Dryer Sheets 3-pack of 120-sheet boxes
$2 Off Glad 13-gallon Trash Bags 45 count
$5 Off Quilted Northern Ultra Plush 48-count double rolls (stack with $1 coupon available on product page!)
$2.50 Off Dreft High Efficiency 50 oz.
$2 Off Glass Plus 32 oz.
Save $3.00 on select Scott, Kleenex and Cottonelle products
$5 Off Brawny 20-count Giant paper towel rolls (stack with $1 coupon on product page!)
$3 off Seventh Generation Multi-Surface Wipes 6-Pack 70 count tubs
$2.50 off select Lysol Disinfecting Wipes
$5.00 off Angel Soft 48-count double rolls (stack with $1 off coupon on product page!)

Mom Care

20% off Select Body Butter
25% off Fekkai Technician Color Care Kit
25% off Fekkai Glossing Starter Kit
25% off Select Nature's Bounty vitamins
20% off Neutrogena Healthy Skin Anti-Wrinkle Night Cream 1.4 oz
20% Select New Chapter Vitamins
20% off Neutrogena Ageless Essentials Continuous Hydration Night Cream 1.7 oz
$6 off Mederma Stretch Marks Therapy
20% off select Always Radiant product

Diaper Care

$5 off select gDiapers products
Save $2.00 Pampers Kandoo Flushable Wipes Value Pack Sensitive 4-pack 250 count refills
20% off Earth Mama Angel Baby Bottom Balm 2 oz
$3 off Super Jumbo Seventh Generation Diapers
Save $2.00 Pampers Kandoo Flushable Wipes Sensitive 6-pack 100 count refills
Save $5 on Triple Paste Medicated Ointment 16 oz.
Save $2 Pampers Kandoo Flushable Wipes 250 count refill
Save $2 select Pampers diapers and wipes
Save $1.25 on Aveeno Baby Diaper Rash
Save $2.00 Pampers Kandoo Flushable Wipes Sensitive 12 pack 42-count tubs
$3.50 off Earth's Best Diapers
Save $2.00 Pampers Kandoo Flushable Wipes Sensitive 6 pack 50-count tub
$2.50 Off Weleda Diaper Care

Baby Care

Save $2.00 on BabyGanics Foaming Hand Soap
$2.00 off Enfamil Newborn Infant Formula
Save $2.00 on BabyGanics Hand Sanitzer
20% off Aquaphor Baby Healing Ointment…
10% off Crane Adorable 1 Gallon Panda Humidifier
$5.00 off Enfamil Formula 5-packs of 22.2 – 23.4 oz containers
20% off Burt's Bees Baby Bee Shampoo & Wash 3-pack of 12 oz. bottles
10% off Crane Adorables Frog Humidifier
Save 20% Mommy's Bliss Gripe Water
$5.00 off Similac Formula 6-packs of 22 oz. – 23.2 oz containers
*If you want to repost this list on your blog, please link back!
I tried to be as specific as possible, but for some of the coupons the assortment of eligible products is rather large. As noted, a few of the items have additional coupons available on the product page (look for a button to click), and these will stack with the above coupons! The coupon discounts will apply once you add the item to your cart, and you can verify before the order is placed.
The fine print
The coupons can be used one time each, and are valid through April 30, 2013 (11:59 p.m. PDT). You can find detailed terms and conditions here.
Maximizing the savings
Most of the products that work with these coupons have a Subscribe & Save option. When you choose Subscribe & Save, you will save at least an extra 5%. If you order a minimum of five Subscribe & Save items scheduled to arrive in the same month, you will save an extra 15%, except on diapers and wipes. Sign up for Amazon Mom and you will save an extra 20 % off certain baby product subscriptions. The great thing about Subscribe & Save is that you can take advantage of the low prices, but you are under no obligation to continue the subscription beyond the first shipment–it's very easy to cancel a subscription online. All Subscribe & Save orders ship free! You can see how combining Subscribe & Save discounts with these coupons can save a lot of money.
What I've Purchased
To get the coupons, I purchased a book that cost about $10. There were less expensive options, but I decided to pay a little more for a book I thought I'd really use.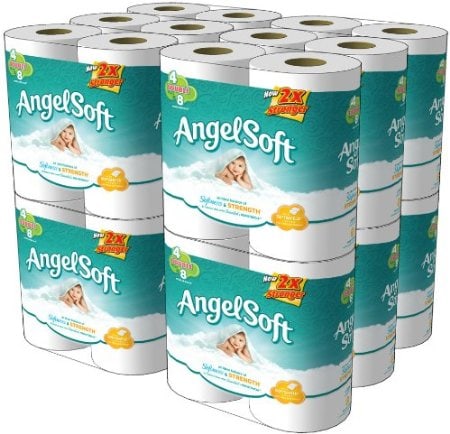 It will be a while before I buy toilet paper again–I stocked up on 48 double rolls of Angel Soft. Subscribe & Save price $22.63 – $5.00 coupon – $1 additional coupon found on product page – 15% Subscribe & Save discount because I have 5 subscriptions arriving in April ($1.13) + $1.24 tax (boo!) = $16.74 shipped (about $0.35 per roll)
I was a little disappointed that the Baby and Diaper coupons didn't match up well with products I buy, but I did use the $2.00 off Pampers coupon to purchase a huge box (768 count) of sensitive wipes. Subscribe & Save price $24.69 – $2.00 coupon – 20% Amazon Mom discount ($4.94) = $17.75 shipped (2 cents per wipe)
Next I bought a 3-pack of 80 count Lysol Disinfecting Wipes containers. Subscribe & Save price $9.97 – $2.50 coupon – 15% Subscribe & Save discount ($0.50) + $0.56 tax = $7.53 shipped (3 cents per wipe)
We use "Free & Clear" products instead of specialized (and pricey) baby laundry detergent and softener, so I grabbed the Bounce Free & Sensitive dryer sheets deal. Subscribe & Save price $19.86 – $4.00 coupon – 15% Subscribe & Save discount ($2.98) + $1.03 tax = $13.91 shipped (4 cents per sheet)
My grand total was $65.80 (including the cost of the book). I saved a total of $24.05 (about 27% off my whole order) based on Amazon's prices, but the savings would be even greater based on prices in local stores. I used $13.50 in coupons from the promotional coupon "book" deal, so the parenting book I purchased to get the coupons more than paid for itself.
Worth the effort
It was a bit of work deciding which deals could beat the prices I can get locally with coupons, but with the Amazon coupons and Subscribe & Save discounts combined, I beat all of the prices I can usually expect to find in my area. Best of all, I was able to make life a lot easier by stocking up on items we will need in the coming months without leaving home! It will be nice not to worry about getting to the store during these last few months of (a rather difficult) pregnancy and the first few months after our next baby's arrival.
I took a gamble by trying this deal before I knew which coupons I would receive, but I'm happy that it worked out well for me. I hope sharing the specifics will help you determine whether you can snag some good deals before you spend money on a book.
DISCLOSURE: This website is monetized with affiliate links. I earn a small percentage of the sales price when visitors make purchases through affiliate links. Thank you for your support!
Share this post