NoMoreRack has taken the internet by storm, and for good reason. Each day they offer a slew of deals on in-demand products at (purportedly) deep discounts. Like other similar sites, the deals are available for 24 hours, or until they sell out. And they often sell out, very quickly. They send out an email shortly before the new deals go live, so you can see what will be coming up, and can prepare to click and buy before other frenzied shoppers snap up the items you want. Shipping is a very reasonable $2 per item. It sounds great, but between the low prices (which often seem too good to be true) and occasional glitches, many people have wondered if NoMoreRack is a scam. Having successfully ordered from NoMoreRack a number of times, I can report that it is indeed a legitimate deal website, but that doesn't mean I like everything about it.
Although I have seen some genuinely good deals on brand name products and I eagerly look forward to seeing the new deals every day, I have been immensely turned off by the dishonest advertising tactics in use at No More Rack. Here's an example from today:
I checked the "Live in 10 Minutes" email that I received from No More Rack and saw that they would be selling Invicta watches for 90% off. Holy cow! Invicta watches? As in, one of those pricey brands I see advertised in high-end magazines?
Well, not so fast. Turns out they are actually "I by Invicta" watches, a much lower-end collection from the posh watch manufacturer. While they are probably perfectly good watches for the price point, they are a far cry from "real" Invicta watches, and most definitely not worth the $495 retail price that No More Rack cites on their website and bases their 90% off claim upon. Quick research elsewhere on the web indicates that these watches go for between $80-100, meaning No More Rack's deal is about 50% off at best.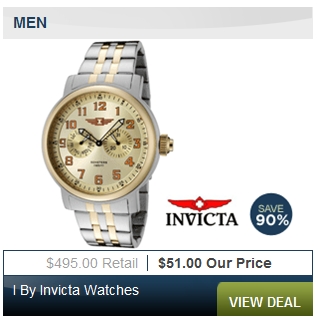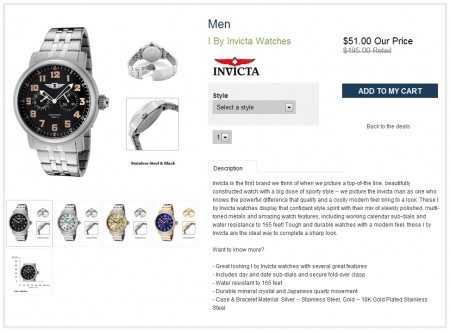 Yes, that's still a good deal if you're in the market for a lower-end Invicta watch, so what's the problem? Well, I have changed my shopping approach over the years to be all (or at least mostly) about quality. Retail pricing is very often an indication of the quality of the product, from superior fit and craftsmanship to better materials and functionality. I am over wasting money on cheap products that last for a while when I could invest in a good, reliable, and somewhat expensive item that lasts forever. So, I take exception to No More Rack telling me that I am buying $495 quality when I'm really not. Paired with a well-known brand name, that inaccurate pricing is especially misleading.
This is hardly a one-off example, either. I've been following No More Rack for a while now, and have seen this "strategy" used over and over again. In another watch example, they claimed their $10 women's watch deal was really worth $74.95, even though the going rate for the same exact watch (with tacky fake dials) was $24.99 at Target. Sometimes researching the true value of No More Rack offerings is difficult because they substitute a generic description of the item for the actual brand and item name. Why retailers are allowed to inflate regular retail prices in order to sell a deal is beyond me.
By advertising deep discounts, No More Rack is able to move a lot of merchandise that isn't selling very well (and for only slightly more) elsewhere.
I know people who have enjoyed their purchases from NoMoreRack and, like I said, there are some great deals occasionally. Is NoMoreRack a scam? No, I wouldn't say that. But as with any deal, don't automatically believe the hype. Do your homework before you buy.