NoMoreRack Advertising Dishonesty
| Updated:
NoMoreRack took the internet by storm when it lauched in 2011. Each day they offer a slew of deals on in-demand products at (purportedly) deep discounts. Like other similar sites, the deals are available for 24 hours, or until they sell out. And they often sell out, very quickly.
They send out an email shortly before the new deals go live, so you can see what will be coming up, and can prepare to click and buy before other frenzied shoppers snap up the items you want. Shipping is a very reasonable $2 per item.
It sounds all great, but between the low prices (which often seem too good to be true) and occasional glitches, many people have wondered if NoMoreRack is a scam. Having successfully ordered from NoMoreRack a number of times, I can report that No More Rack is a legitimate business, but that doesn't mean I think you should shop there.
No More Rack deals aren't as good as they sound
Although I saw some genuinely good deals on brand name products and eagerly looked forward to seeing the new deals every day, I was immensely turned off by the dishonest advertising tactics I noticed in use at No More Rack. Here's an example from 2011:
I checked the "Live in 10 Minutes" email that I received from No More Rack and saw that they would be selling Invicta watches for 90% off. Holy cow! Invicta watches? As in, one of those higher-end brands I've seen advertised in magazines?
Well, not so fast. It turned out they are actually "I by Invicta" watches, a much lower-end collection from the posh watch manufacturer. While they are probably perfectly good watches for the price point, they are a far cry from regular Invicta watches, and most definitely not worth the $495 suggested retail price that No More Rack based their 90% off claim upon.
Quick research elsewhere on the web indicated that these watches usually sell for between $80-100, meaning No More Rack's deal is about 50% off at best.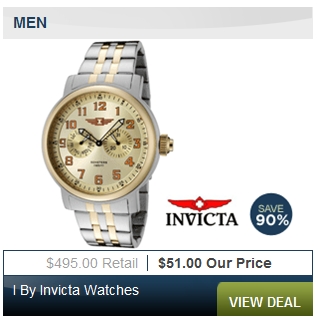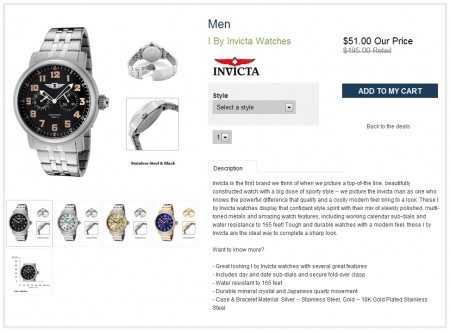 Sure, that's still a pretty good deal if you're in the market for a lower-end Invicta watch, so what's the problem? Well, I have changed my shopping approach over the years to be all about quality. Retail pricing is very often (or at least should be) an indication of the quality of the product, from superior fit and craftsmanship to better materials and functionality.
I am over wasting money on cheap products that last for a while when I could invest in a good, reliable, and somewhat expensive item that lasts forever. So, I take exception to No More Rack telling me that I am buying $495 quality when I'm really not. Paired with a well-known brand name, that inaccurate pricing is especially misleading.
This is hardly a one-off example, either. I've been following No More Rack for a while now, and have seen this "strategy" used over and over again. In another watch example, they claimed their $10 women's watch deal was really worth $74.95, even though the going rate for the same exact watch (with tacky fake dials) was $24.99 at Target.
Sometimes researching the true value of No More Rack offerings is difficult because they substitute a generic description of the item for the actual brand and item name. Why retailers are allowed to inflate regular retail prices in order to sell a deal is beyond me.
By advertising deep discounts, NoMoreRack is able to move a lot of merchandise that isn't selling very well (and for only slightly more) elsewhere.
Is NoMoreRack legit?
NoMoreRack is a real business with offices based in New York City. You can scroll through the comments on this post and see that many customers (including myself) have ordered and received items from this company. They are listed with the Better Business Bureau, and as of this writing, their rating is an "F" due to a number of significant issues, including over 2,000 NoMoreRack complaints.
Interestingly, the BBB has also noted their questionable advertising. From the BBB website:
On June 14th, 2013, the Better Business Bureau raised concerns about this firm's advertising on http://www.nomorerack.com and
http://www.ispot.tv/ad/7Z8_/nomorerack-tablet and requested that this firm substantiate the following claims regarding savings on merchandise offered: "save up to 90%" "save up to 98%". As of August 15, 2013, the business has responded to the BBB and modified their claim of "up to 90%" for a range of savings that may more accurately reflect what the company is offering. However, the YouTube ad for NMR with the claim of  "save up to 98%" has not been modified or discontinued, so the Ad Review is closed as unsubstantiated.
Is NoMoreRack a scam? No, I wouldn't say that. But as with any deal, don't automatically believe the hype.
Why am I picking on No More Rack?
Let me be clear that I'm not on a mission to single out NoMoreRack and sink a business. I wrote this article after I saw many so-called "frugal" bloggers pushing NoMoreRack reviews and deals so they could earn referral fees and compete for prizes from NoMoreRack.
One blogger I know admitted that she had had a bad experience with NoMoreRack, but kept quiet about it after they sent her a free iPad. A lot of these bloggers don't care if you truly save money or not, as long as they get paid. I wanted to counter-balance the frenzied promotion with truth, and prevent people from wasting their money.
There are many, many other businesses that utilize deceptive MSRP prices to sell product. Amazon.com has been caught doing it, Overstock.com has been sued for it, and they're just two high-profile examples. Hopefully this article will help you to be on the lookout for these kinds of tactics elsewhere.
The companies themselves often do not set the MSRP, it comes from the manufacturer. But, it's up to them whether or not they advertise the MSRP and mislead people. I'm frustrated that so many do. I would be among the first cheerleading No More Rack if they decided to embrace honesty and do away with ridiculous MSRPs on their website.
Are inflated retail prices legal?
I'll have lots more to say on the abuse of manufacturer's suggested retail pricing and its legality (or not) in the future, but for now just make sure you do your homework before making a purchasing decision.
Don't get caught up in the hype and the rush to grab "deals" before they're gone — it's often just another gimmick.
DISCLOSURE: This website is monetized with affiliate links. I earn a small percentage of the sales price when visitors make purchases through affiliate links. Thank you for your support!
Share this post