Adorable miniature flatware and more from Oneida
| Updated: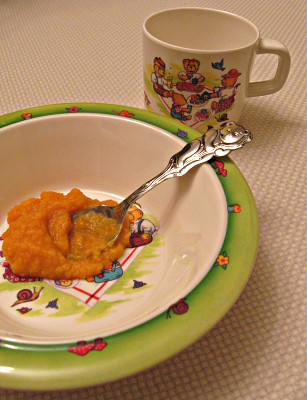 I grew up with my own miniature flatware and dish set from Oneida, and I loved it. I remember how important I felt to be able to use my own "bunny spoon" or "bunny fork"…and even the "bunny knife" when I was a big girl. The flatware was so durable that it lasted through all four of my siblings, and Mom still has it tucked away in a drawer somewhere.
I wanted my son to have his own special set to grow up with as we introduced him to solids. Sadly, the old "Peter Rabbit" set I had is no longer produced, but I found an equally cute set called "Cubby Bear" for my little one. I bought the 6-piece progress set, which includes a variety of pieces for baby to grow and learn with. The design, made from durable stainless steel, features a cute baby bear clutching a tree branch (which forms the handle of the utensil).
If you prefer a more traditional pattern, Oneida makes pint-size versions of their Chateau, Paul Revere, and Brahms designs. They look just like the grown-up versions, but are perfectly sized for tiny mouths and hands.
You can also order sets of four "feeding spoons" or "baby spoons" online only. I think I may order a set of four feeding spoons, as it's the utensil I use the most right now, and I wouldn't need to wash the single feeding spoon that came with my set as often.
I also purchased the "Bear Picnic" dinnerware. Made from unbreakable melamine, the dishes look like Mommy and Daddy's china, but they can survive a trip from highchair tray to floor. Note that while the melamine ware is dishwasher safe, it is not recommended for use in the microwave.
Oneida produces high quality products, and their baby ware is no exception. Skip the plastic, and invest in something that will last for generations! Oneida baby flatware is an affordable gift idea that will be treasured for years.
Shop Child and Baby Flatware
at Oneida.com
DISCLOSURE: This website is monetized with affiliate links. I earn a small percentage of the sales price when visitors make purchases through affiliate links. Thank you for your support!
Share this post