A tale of two toggle coats
| Updated:
Today we set out in search of a new fall coat for Mr. Boy. This task is much easier said than done. Sometimes it seems like every family has a size 2T little boy, as that size is almost never in stock! We eventually found ourselves at Old Navy where I fell in love with a gray wool(ish) toggle jacket. Of course it wasn't available in his size, and the best they could offer was to call other area stores. I decided that I would rather check other children's stores in the mall first, and I'm glad we did. The Children's Place had a very similar style, but the quality was immensely better and it was only three dollars more!
Here's how they compare: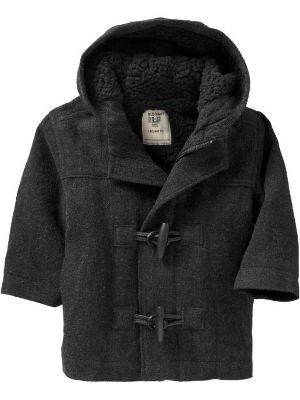 Old Navy Hooded Toggle Jacket – $36.50
– 90% Acrylic 10% Wool (Machine Washable)
– Attached hood
– Faux sherpa lining in coat and hood, polyester lining in sleeves
– Three toggle fasteners over full zipper
– Welt pockets
– Sizes 6-12 months through 5T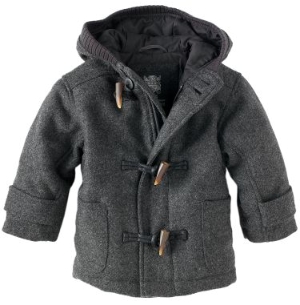 The Children's Place Toggle Coat – $39.50
– 57% Acrylic 40% Wool 3% Other (Dry Clean Only)
– Attached hood with jersey-knit cotton trim
– Cotton lining in hood and coat, polyester lining in sleeves
– Three toggle closures over full zipper
– Front patch pockets
– Button tabs at cuffs
– Sizes 6-9 months through 4T
The Old Navy jacket felt loosely woven and rather lightweight. The fabric just didn't seem high quality and the faux leather toggle fasteners were a little bit gaudy. In contrast, The Children's Place coat feels sturdy, tightly woven and heavy enough to keep warm in the fall, and maybe even into the winter. The added detail of the button tabs, the faux bone toggles and the knit trim on the hood lend a higher quality and more tailored appearance.
Although I like both Old Navy and The Children's Place for reasonably priced children's clothing, in this case three extra dollars will buy a much better product at The Children's Place.  We found that the 24 months size fit Mr. Boy well with a little room to grow yet, and went home feeling that we had purchased a good quality coat for our money.
DISCLOSURE (what's this?): I am not affiliated with Old Navy or The Children's Place. The opinions expressed in this article are my own, and I do not profit from purchases made through the links in this article.
DISCLOSURE: This website is monetized with affiliate links. I earn a small percentage of the sales price when visitors make purchases through affiliate links. Thank you for your support!
Share this post