A review of Kolcraft's Contours Classique 3-in-1 Bassinet
| Updated:
My son slept in a crib in his own room from the time we brought him home from the hospital, but my sister wanted her baby to room in with her. The American Academy of Pediatrics actually recommends that babies share their parents' room (but not their bed) for the first six months of life.  Rooming in would also provide convenience for everyone involved as they worked on breastfeeding.  Without the space for a full-size crib in her bedroom, she decided to register for a bassinet.  My mom enlisted me to help her find a great deal on a bassinet without compromising on quality or safety. I discovered the Kolcraft Contours Classique 3-in-1 Bassinet and we decided to order it after reading user reviews on several different websites.  Reviews for this item can be far and few between, so I thought I'd contribute my own opinion to the mix.
Although bassinets certainly serve a practical function, they also tend to be highly decorative pieces of furniture; my sister wanted something that would serve its purpose and look nice in her bedroom.  She had wanted the Eddie Bauer Covington Bassinet, but when my mom saw it in a store she was very concerned about quality.  I decided to look around for an alternative that both my mom and sister would be happy with, and the Contours Classique immediately caught my eye.  It was slightly more expensive (by about $10) but had several great features, like a diaper organizer, storage baskets, and even a changing table attachment. The bed itself is actually a removable moses basket with handles and a canopy.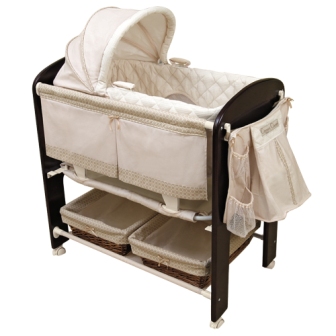 I helped my husband assemble the bassinet once it arrived, and I carefully examined each assembly component as we put it together; no nephew of mine would sleep in an unsafe piece of furniture! The end pieces were solid wood with a dark cherry finish and all of the edges were smooth. Other structural components were metal, along with some plastic parts. The plastic was reserved mainly for lighter-duty pieces that would not impact safety. Assembly was very straightforward and relatively easy–it took less than an hour. It can be assembled alone, but it helps to have an extra pair of hands to hold things steady. Once all the screws were tightened, the furniture was very solid. It rests on casters for easy portability.
I purchased the "Moda" design, and all of the fabric components were lovely in beige and cream hues.  The print fabric had light circles on a beige background.  The bedskirt and canopy were a heavy cotton.  The moses basket was lined in a soft quilted waffle-weave fabric and the removable mattress was covered with a soft terry-cloth fitted sheet.
One of the determining factors in choosing this bassinet was safety. Unlike other products, this bassinet does not have a rocking mechanism, a feature that could fail or pose a suffocation risk. I also appreciated the small mesh-covered openings on the sides of the moses basket, which provide added ventilation, important for preventing SIDS.
My sister was finally able to use her bassinet after her baby boy arrived a couple weeks ago. He seems very comfortable in his little cocoon of a bed, and the rolling casters have already proved convenient (although I wish they weren't so prone to locking up). I rolled the bassinet out of her room and beneath a sunny window in the nursery to help him to get rid of his jaundice. I was very pleased with the product, and even though I had not considered using a bassinet before, I may purchase one for my next baby.
If you are in the market for a new bassinet, you should definitely check this one out. It retails for around $159.99, but you can usually find a better deal by shopping online.  Sure, bassinetts are only useful for a few months, but if you're going to spend so much money, why not go for quality and appearance?  To view more information about this product, visit the Kolcraft website.
DISCLOSURE (what's this?): I am not affiliated with Kolcraft.  This is an unsponsored review based on my own opinions after purchasing this product myself.  A portion of the purchases made from my Recommended Products shop benefit my family monetarily, but this does not impact my opinion of the product or the information I provide to you.
DISCLOSURE: This website is monetized with affiliate links. I earn a small percentage of the sales price when visitors make purchases through affiliate links. Thank you for your support!
Share this post