A review of InkTaz.com
| Updated: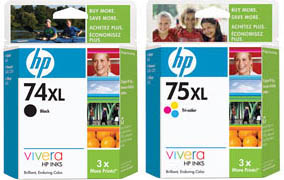 I mentioned InkTaz.com a while back, and finally got around to ordering from them. They offered the best price I could find on the extra-large ink cartridges I was looking for, beating out even Sam's Club by more than $10! InkTaz sells remanufactured, compatible, and OEM ink and toner cartridges for a vast array of printers. For my particular printer, an HP Photosmart
C4385, they carry an OEM Combo Pack containing an XL Black cartridge and an XL Tri-Color cartridge.
Shipping on most orders is a flat fee of $5.00, and they will ship out the same day if you order by 3:00 p.m. Pacific Time. The website is straightforward; just browse the makes and models of printers, then choose the product you need. The checkout process can seem a little bit convoluted if you choose to use a credit card rather than your PayPal account (there are numerous pages to click through), but the process went smoothly. I received my cartridges in the mail just two days after I ordered! They were packaged well (in a box, not a padded envelope), and were sealed in the manufacturers' foil, as the website stated. I popped them into my printer, and have been happily printing ever since.
I will certainly order from InkTaz again, assuming they continue to offer a great bargain!
DISCLOSURE: This website is monetized with affiliate links. I earn a small percentage of the sales price when visitors make purchases through affiliate links. Thank you for your support!
Share this post