A powerful little carpet cleaner
| Updated: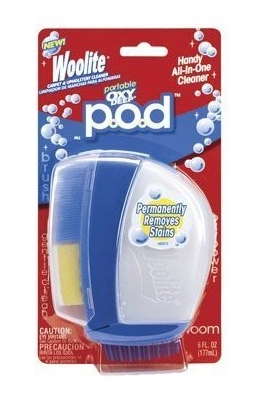 I've had my Woolite Oxy Pod
carpet cleaning kit for close to a year now, but never got around to opening the package. With a party planned over the weekend and numerous spots showing on the neutral-colored berber, I knew it was time to give it a try. I remember carpet stains being the bane of my parents' existence while I and my four siblings were growing up, and nothing ever seemed to work for them. I didn't hold out much hope for the Oxy Pod, but I had to try something.
The Oxy Pod consists of a clear plastic "tank" filled with the special solution (mainly peroxide), two flexible brushes, and a gentle cleaning pad. It can be used on either carpet or upholstery (just make sure you read the instructions). The stains that were bothering me the most were from people tracking in mud during a home improvement project. The carpet is a very light berber, and the spots really stood out.
I squeezed some of the solution onto the biggest stain and rubbed with the scrubbing brush. The stain literally disappeared before my eyes! I had been concerned that the brush might not work well with the looped berber, but the flexible "bristles" gently reached into the carpet to release the stain. It could not have been simpler, and I gleefully crawled around on my hands and knees tackling every stain I could find. It felt so good to have nice, clean carpeting again.
The only stains that did not come out completely were in my son's nursery, and they were baby formula stains – the kind that don't show up on clothing initially, but create hard-to-remove spots later. I think I will try to do a more thorough job with the Oxy Pod, or else try Zout in there. Overall, I am amazed by the wonderful job this little tool did, and will make sure I stock up on the solution so I can refill my pod (the liquid comes out quickly and easily, and in your glee you may be a bit overzealous as I was).
If you have trouble finding it in stores, you can order it online from Amazon.com
.
DISCLOSURE: This website is monetized with affiliate links. I earn a small percentage of the sales price when visitors make purchases through affiliate links. Thank you for your support!
Share this post