5 DIY Kids Costumes for Halloween
| Updated:
DIY kids costumes have become a Halloween tradition in our house, not only for cost-saving reasons, but also because my boys sometimes have unique ideas that the Halloween aisles can't accommodate.
With seven years of parenting behind me, and almost as much time blogging, I've written quite a bit about costumes and pretend play. So, I thought I'd round up a few of my DIY kids costumes into one convenient place.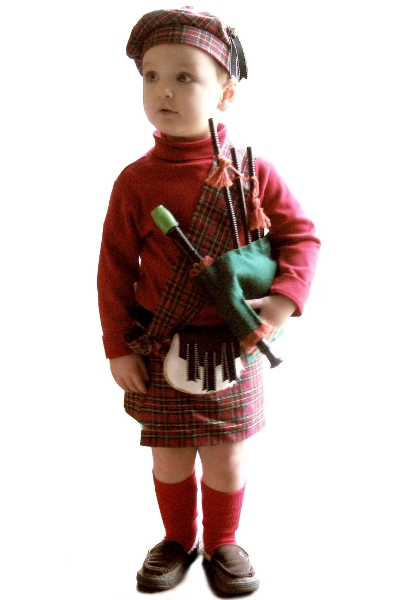 One of the great things about DIY kids costumes is that they can really fit a child's current obsession. At age two, my oldest was completely consumed with bagpipes. This was the most elaborate costume I've made so far, and my favorite. I worked with inexpensive plaid flannel from a craft store, faux fur, ribbons and yarn. The "bagpipe" was a toy recorder and some straws glued to a felt "pillow".
Read more about my DIY Kids Bagpiper Costume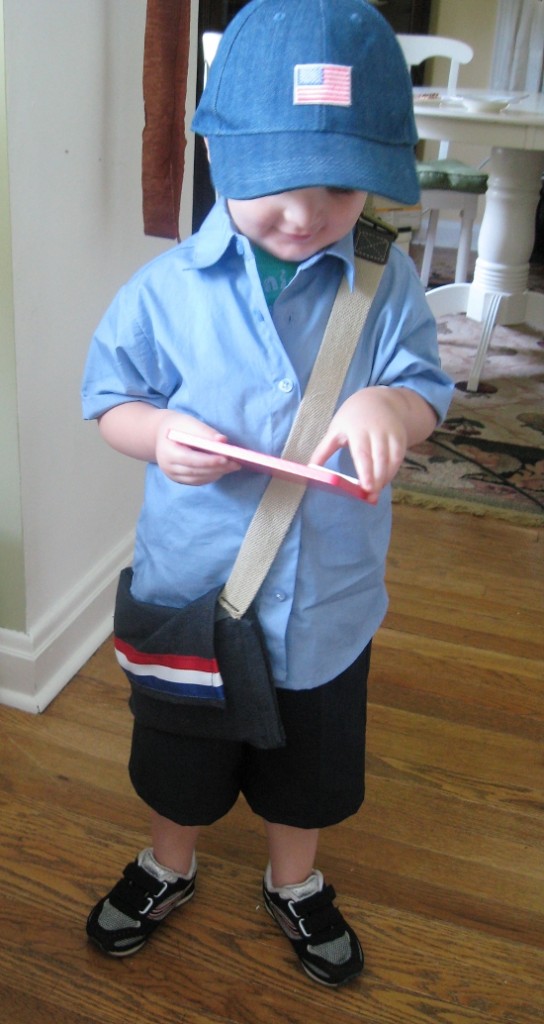 This mail carrier costume wasn't actually for Halloween, but it could have been. We love pretend play costumes, and I made this one to go with a toy mailbox. I found a child-sized suit on clearance and cut it into shorts and short sleeved shirt. The bag was made from an old pair of jeans and an old belt with some striped ribbon. A plain hat with a flag patch completes the outfit.
Read more about this Mail Carrier Costume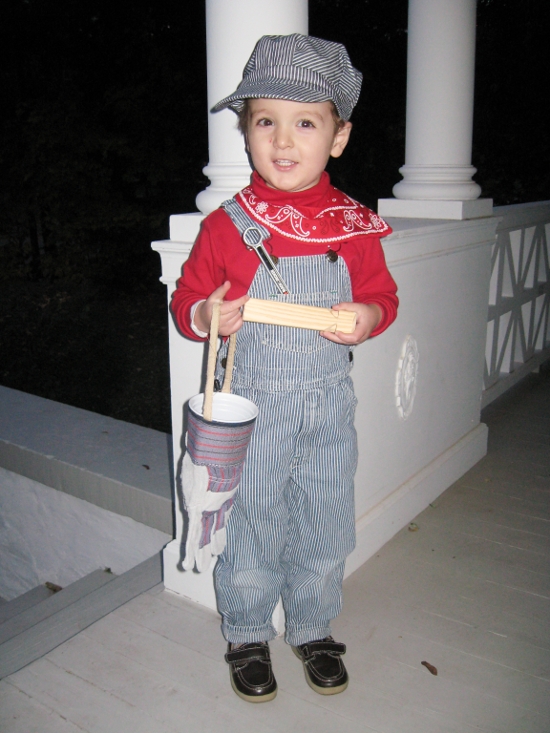 What child doesn't go through a train phase? This Train Engineer costume was simple to pull together quickly. I lucked out and found Osh Kosh striped overalls at a thrift store. I found a train engineer set with a striped hat, a bandana and a train whistle. At the time, I couldn't find kid-sized work gloves, so I bought adult sized gloves and fashioned one of them into a treat bag by inserting a large plastic cup and hot-gluing a handle.
Read more about this Train Engineer Costume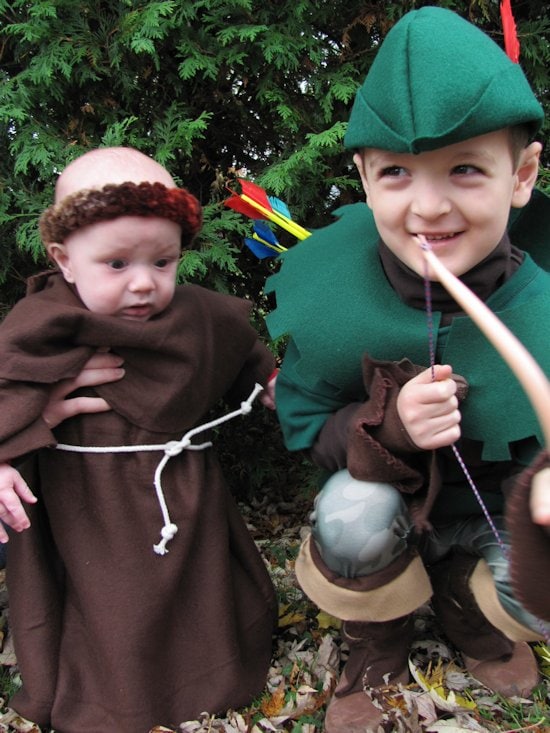 With a baby brother now in the house, it was fun to plan themes that could involve both boys. Our oldest requested to be Robin Hood, and I thought the baby would make an adorable Friar Tuck. Inexpensive fleece and felt provided the basis for two great costumes. I crocheted a "hair" headband for our bald little friar.
Read more about our Robin Hood Costume and Friar Tuck Costume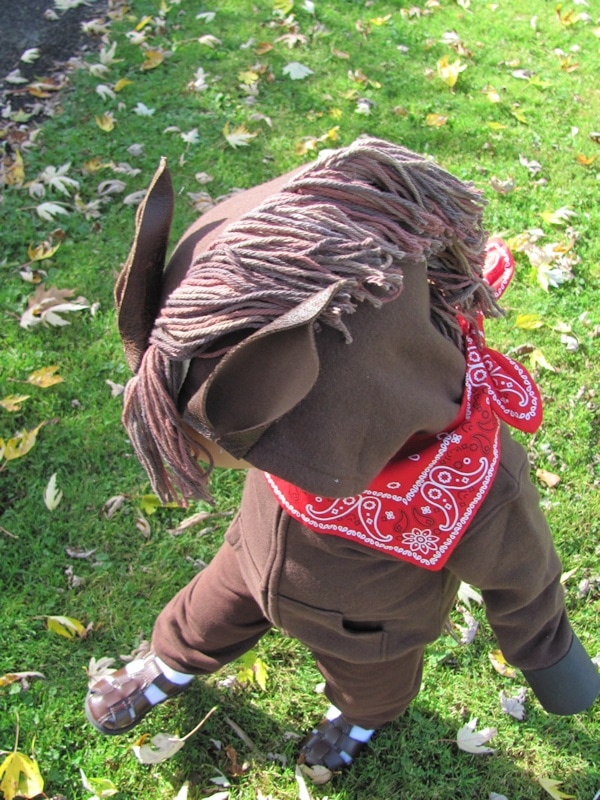 Big brother wanted to be a cowboy, so little brother was his trusty companion, a horse. I added a yarn mane and tail, some ears and hoofs to a brown hooded sweatshirt. Re-using the bandana from the train engineer costume added just the right touch. It's easy to get extra imaginative with this design to make an adorable My Little Pony costume, or a cute unicorn costume that your toddler won't object to wearing.
Read more about this Kids Horse Costume
…And this year I'm hoping that the classic Batman and Robin costumes I've designed in my head will pan out! Stay tuned.
Do you have any great kids costumes to share? Let us know in the comments!
See all of my DIY costume ideas on my Kids Costumes page.
DISCLOSURE: This website is monetized with affiliate links. I earn a small percentage of the sales price when visitors make purchases through affiliate links. Thank you for your support!
Share this post