4 Freelance Side Jobs That Have Worked For Me
| Updated:
Sometimes no matter how frugal you may be, your regular income just won't cut it. My husband and I found ourselves in that situation in 2008 when our first son was a baby, and we were completely unprepared for the high cost of specialty baby formula (to the tune of more than $300 per month). To make matters worse, the economy was crashing and my husband's industry was suffering — he was furloughed for two weeks.
I worried as I watched our savings account quickly drain. I was embarrassed to think that my gutsy and, to some people, astonishing decision to leave my career to be a full-time mom might end up a huge failure.
I thought about part-time jobs that I could work at night, and shuddered at the idea of greeting former coworkers from behind a cash register at the local grocery store (not that there's anything actually wrong with that). But would that kind of job even be enough, or would I need to give up full-time parenting altogether?
I had skills and talent, but I needed the money now. I didn't have the time to slowly build a successful at-home business.
I had looked into work at home jobs in the past, but none of the options seemed feasible to me. Transcription? I can't hear well, and I didn't have the time or money for training. Direct sales? I have a hard time wasting my own money — how could I encourage others to do so? Cold-calling? I would pretty much rather die.
It turned out, however, that my knowledge of work at home jobs was seriously limited, and I just needed to do a little more research to discover that 1) there are huge numbers of people successfully working from home and 2) there are all kinds of work at home or flexible freelance jobs out there, some of which would match my interests and abilities well, as long as I was open to trying new things.
In a previous post, How Did I Get So Lucky, I mentioned that I've worked in some capacity since leaving full-time employment. Here are four of the side jobs that have helped keep my family financially secure since I gave up my salary to stay at home in 2008.
1. Search Engine Evaluator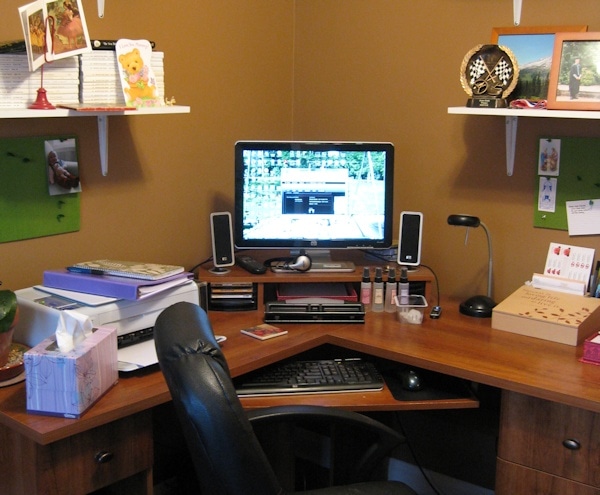 My first home office
What's the secret behind major search engines like Google and Bing? You've probably heard about computer algorithms that determine which results you see when you search, but you may not be aware that there are armies of human beings analyzing and helping the computers understand human behavior in order to deliver the right information to end users.
As someone who has been using the internet since the mid-90's, I was very intrigued when I learned about search engine evaluation. I rely heavily on search engines myself when I need to find information, and I care about quality content on the web. Being able to help make the internet better and getting paid for it (from home) seemed ideal.
I applied for a Search Engine Evaluator position with Leapforce, and passed the initial qualifying test. From there I was invited to take the longer qualifying exam. The exam is rather daunting even though it's open-book, but I passed and began my job as a Search Engine Evaluator. Since the work is top secret, I can't go into detail, but here's how the Leapforce website describes the job:
"Search Engine Evaluators provide feedback on search engine results by measuring the relevance and usefulness of web pages in correlation to predefined queries, by providing comparative analysis of sets of search engine results and various other techniques."
This video explains how Google utilizes Search Engine Evaluators to improve algorithms and search results:
Leapforce provided the flexibility I needed by allowing me to work whichever hours I chose on any day of the week. I generally worked two hours per day, five or six days per week. Leapforce was my first work-at-home job, and it saved us; even though I had many late nights at the computer, it felt good bringing in the extra money we so desperately needed. I also appreciated that I learned so much about how search engines operate and what constitutes quality content — it helped me avoid pitfalls as I developed my blog. I also learned about camel spiders and didn't sleep that night.
I will admit that after a while I found the work too monotonous for my liking (I am more a creative, project-based type who hates repetition), so I moved on to other things once we were less desperate for the income. You might love it or hate it depending on your personality.
Other companies that offer similar opportunities are Lionbridge and Appen. While the jobs are similar, these companies have slightly different job requirements, including fixed schedules or minimum hours. I've heard good things about both companies.
Takeaway: Think outside the box and look beyond your career field for meaningful work you can do from home. Everyday skills that you take for granted, like using the internet, could prove valuable to an employer.
2. Golf Course Map Designer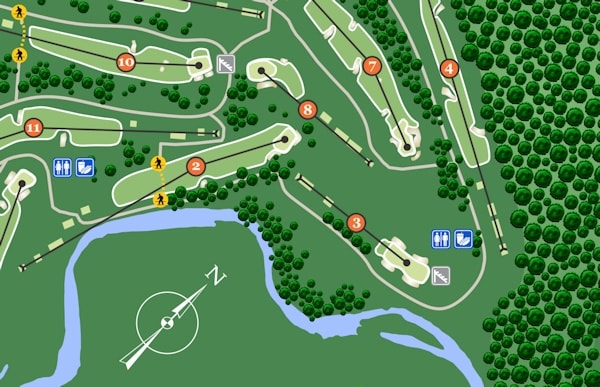 Toward the end of my time at the resort where I worked, I was tasked with providing architecture and graphic design services for the PGA tournament that was hosted there. One of my biggest tasks was creating the tournament course map that spectators would see on large signs and in pamphlets, helping them to navigate around the course. Over the years I had branched out from strictly architectural drafting to photo-editing and graphic design, and since the existing golf course maps were in CAD (Computer-Aided Design) format, I wound up with the job. I gave myself a crash-course in golf, signage, maps, Adobe Illustrator and more to get the job done. It was hard work, but it paid off — the map and my other work were a big hit, even winning an award for our tournament.
One of my tournament coworkers, a manager who I had collaborated closely with, left the company for a position with a new tournament. One day he called me at home to ask if he could refer me to a friend who was in charge of yet another PGA tournament — he needed a course map. I thought about the time it would take and carefully researched freelance rates to determine a fair price. I held my breath as I sent out the proposal with a price that seemed huge, but that other freelancers would probably call low. I got the job. A few weeks later, my former coworker called again; his tournament had a map, but it was in bad shape. They wanted me to overhaul the map in my style. I sent another proposal, and landed another job.
I was back in my element and I loved it, but it was tough! My oldest son, a toddler, was not content to play alone, and naptimes were unpredictable. I didn't have a sitter. One time I received an important work-related phone call while my son was throwing a temper tantrum. I had to stay up until the wee hours of the morning to get the work done, but I finished both projects and my clients were thrilled. It was worth it.
Even though I've never played golf myself, I really enjoy working in the industry, and hope to get back into it once I can arrange a more realistic work schedule.
Takeaway: Working hard, developing new skills and forging great working relationships can pay off for years to come, even after you've left the corporate rat-race. Try LinkedIn to stay connected with old co-workers and keep abreast of opportunities.
3. Freelance Writer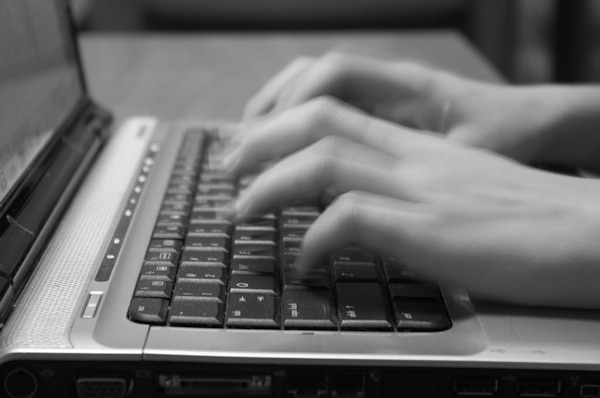 I enjoy writing, but blogging wasn't delivering the immediate revenue that I needed. I decided to look into freelance writing and found Demand Media, a company that provides content to a variety of websites including eHow, SFGate and more. Their standards are fairly high, with all writers required to adhere to AP writing guidelines and work with an editor.
Writers select from pre-determined article titles and formats. In recent years the pay has improved greatly, and writers are now assigned topics in their areas of expertise (I write for the Home and Home Decor sections). This has improved the overall experience greatly.
Even though it's not lofty or lengthy content, working with an editor and having to learn basic journalistic standards has been a good challenge which has helped me as a writer (though it may not show — I allow myself to relax a bit more on my own blog).
I like that Demand Media is a flexible job option — I can work whichever hours I choose, on whichever days I want. There are deadlines to meet once I've committed to writing an article, but they are fairly generous. I don't need to meet any quotas, so there is little pressure. Demand pays twice per week (Tuesday and Friday) via PayPal. It's great being able to pick up some work when I need some extra money, or leave it when we are doing okay and I would rather focus on other things.
Takeaway: If you're a decent writer and have a particular area of expertise, get paid for your knowledge, now! Blogging can take some time to be profitable. Demand Media is just one of many freelance writing options that will provide you with extra income and great writing practice.
4. Adjunct Professor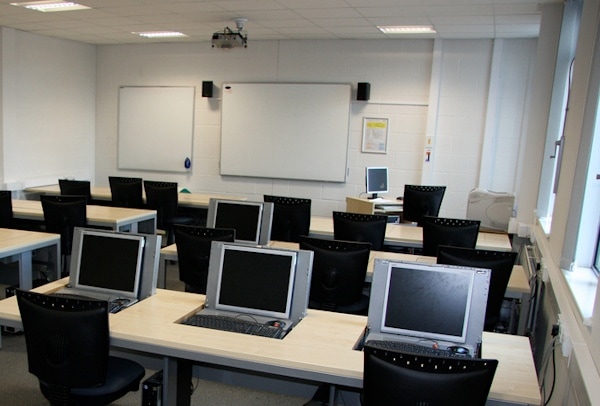 As an introvert, teaching is something I had never really considered doing until after I had started my blog and realized how much I enjoy sharing knowledge with others. A friend knew of a job opening for a CAD instructor at a local college, and the classes were in the evening for two hours twice per week. It sounded like a perfect opportunity to dive back into a subject I love, earn some extra income and help others.
Experienced CAD professionals are difficult to come by in this area — many young people graduate from college and then move on to greener pastures. So, even though I have architectural experience and knew little about mechanical engineering, I got the job. I reacquainted myself with AutoCad, flipped through the thick textbook, and developed my own lesson plans, exercises and quizzes.
I was a nervous wreck during the first class — I had more than 20 students staring at me, and I had never taught before. I sent them for a 10-minute break just 15 minutes into a 2-hour lecture — those 15 minutes had felt like an eternity! I quickly became more comfortable, though, and began to love it. I knew AutoCad inside and out. I could answer the students' questions, and it felt so rewarding being able to share a specialized interest with so many others who were eager to learn. For the most part I had really great students.
Overall, it was an amazing experience. Even though it was something I never saw myself doing, it turned out that I felt like I was in my element at the front of the classroom. I gave it up when I knew we wanted to expand our family, but I would definitely consider teaching again.
Takeaway: You probably have skills that others would love to learn, and you don't always need special training to teach. Check local educational institutions for job openings, or invent your own class to teach at a local library or church hall. Don't rule it out just because you're shy — you might surprise yourself!
Resources
Here are some great websites that list work at home job opportunities and offer helpful advice:
Of course just about everyone would love to be able to work from home, and scammers know that. There are a lot of work at home scams, so be sure to check out any job opportunities carefully, and ask for advice from others if you're unsure. In general, you should never need to pay anyone or buy product in order to work from home. Don't let this put you off, though — there are many wonderful, legitimate opportunities out there if you look carefully.
Have you found a great work at home job or other side hustle to earn some extra cash? I'd love to hear what has worked for you.
Image sources: college classroom, typing
DISCLOSURE: This website is monetized with affiliate links. I earn a small percentage of the sales price when visitors make purchases through affiliate links. Thank you for your support!
Share this post